Holiday movie favorites
Horizon staff share their top Christmas movies for the season.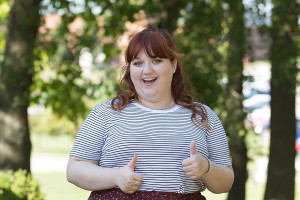 Paige Thompson, managing editor
–"A Muppet Christmas Carol": Michael Caine and The Muppets? Say no more.
–"White Christmas": Watching this with my family is a tradition. Complete with a performance of "Sisters" by my sister and myself.
–"In Bruges": While this one doesn't scream Christmas, it's set during the holidays, stars Ralph Fiennes and it's hilarious.
–"Rankin Bass' Christmas Short Films": I have to watch these every year. I'm a sucker for stop-motion animation, what can I say?
–"A Charlie Brown Christmas": Another classic, and you can't go wrong with Charlie Brown. Christmastime is here yo!
–"Jack Frost" (cartoon version): This movie has a different twist. Jack sacrifices his humanity for the woman he loves so she can be happy without him.
–"The Santa Clause": Tim Allen as Santa, need I say more?
–"Love Actually": "Love Actually" is a basic girl pick. However, there's something magical about how the story lines end up interacting. It reminds me how we're all connected and should help each other out whenever given the chance.
–"The Polar Express": "The Polar Express" is a tradition with my family because it teaches kids to never stop believing.
–"The Little Drummer Boy": "The Little Drummer Boy" is a movie I've watched since I was a kid, so it's just one of those "got to see" movies.
–"Jack Frost": This is probably the saddest Christmas movie I've seen. Get the tissues ready.
–"The Santa Clause": This is perhaps my favorite Christmas movie. Tim Allen is great as Santa.
–"Grandma Got Run Over By A Reindeer": My grandmother got me this movie for Christmas when I was a kid. Ever since then I've watched it every Christmas.
–"Elf": This movie is hilarious and is a great source of Christmas cheer. Definitely one of my favorite movies.
–"The Polar Express": This movie makes you reminisce back to Christmas day as a kid. Can you still hear the sleigh bell ring? I know I can.
–"It's A Wonderful Life": I don't even think I have to explain the sheer brilliance of this movie. Really, it could be summed up in two words: Jimmy Stewart.
–"The Family Stone": "The Family Stone" is my favorite of this particular sub-genre because it's cozy, and Diane Keaton is in it. I love me some Diane Keaton. It makes you feel like you're sitting around the fire with your own family.
–"Die Hard": It's set on Christmas Eve. And that's basically all I've got to tie it into Christmas. It is however, arguably, one of the greatest action films ever made.
–"The Holiday": It's as rom-comy as they come but you can't help but be filled with Christmas cheer; unless you're a chick flick scrooge. And if so, I have two words for you — Bah Humbug!
–"A Christmas Story": I have a dog named Bumpus because she looks exactly like the turkey smuggling dogs next door. It's easy to understand why this film has become such a classic.