Poetry featured at SPC Open Mic
The Student Program Council's Open Mic may have been missing more than half of the performers on Tuesday, Jan. 19, but that did not stop Richard Stottman, music junior and arts and entertainment organizer of the SPC, from setting up in The Commons at 12:15 p.m.
Likewise, it did not deter Layla Schmiedler and Nickole Thomas from performing. Schmiedler and Thomas were even able to expand their expected time slot.
Wednesday's Open Mic was mainly about poetry. Thomas, Stottman's girlfriend, read several poems she had written relating to hope, support, and an appreciation for oneself . Schmiedler read poems dealing with her appreciation for universal designs.
Near the end of the event, Thomas finished with a 60's rap song.
Schmiedler said the Open Mic provided an opportunity to express herself to a large audience.
"I like doing it [Open Mic] in the cafeteria," Schmiedler said. "I can perform and practice with a large audience without worrying about people disliking it or caring too much. Science and fiction are my inspiration. I write abstract stuff that makes sense in my head."
Schmiedler said Elliot Smith, who is a singer, songwriter and musician, was a big source of inspiration for her work.
Thomas said she enjoys writing poetry.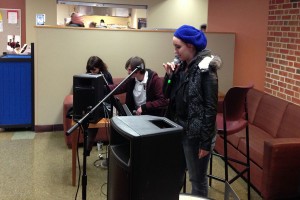 "I never really had a chance to before, so this gives me an outlet to practice and express myself," she said. "For sure, I have been through a lot in 20 years. I like to write about hope and standing up for yourself."
Morgan Callam, business senior, was an audience member. Callam said she enjoyed seeing fellow students practice their talents during the Open Mic.
"I like the different performers, whether it is music or poetry," Callam said. "I have been to every single Open Mic so far. The people did very well."
Despite last minute cancelations by several of the expected performers, Stottman said he was confident that things went as well as they could have.
Stottman said the SPC will hold more Open Mic events.
"Open Mic is open to anyone willing to participate," he said. "We perform once a month while classes are in session. We usually have four people perform for 15 minutes."
Stottman said performances vary during each Open Mic. For example, he said performers have done magic tricks, played music, and read literature in the past.
The SPC will hold the next Open Mic on Tuesday, Feb. 9 at 12:15 p.m. in The Commons.