"Get on the Bus" screening stimulates discussion of racial and other issues
African-American men and Caucasian men discriminated against each other. Meanwhile, a few men were coming to terms with their sexuality, and a man and his son had a stormy relationship.
These are just a few of the issues illustrated in "Get on the Bus," a 1996 film directed by Spike Lee. Students, faculty and staff attended a screening and discussion of the film in the Hoosier Room in University Center North from 7 to 10 p.m. on Tuesday, Jan. 19.
The "Get on the Bus" film screening was one of several Martin Luther King events that happened on campus between Saturday, Jan. 16 and Thursday, Jan. 21.
Channell Barbour, associate director of Campus Life, said "Get on the Bus" discussed issues that were relevant to King and his message regarding racism, religion, manhood and politics.
"The movie was chosen to engage students and the community into conversations regarding issues concerning present-day society," Barbour said.
Attendees mainly consisted of students in campus organizations, including The Dining Hall, the Gay-Straight Alliance, Tau Kappa Epsilon and others. Barbour said students in campus organizations could earn volunteer hours and iCHIP points for attending the film screening, and their organizations could win a cash prize if 30 to 100 percent of the student organizations' members attended.
Nicholas Moore, business junior and vice president of the GSA, said he decided to attend the film screening after receiving an e-mail promoting the event and seeing a flyer posted on GSA's office door in the Student Involvement Center in University Center South.
"I know that Dr. Martin Luther King, Jr. was an incredible leader, speaker and human being, and pivotal to the civil rights movement, so I wanted to attend this event whose theme revolved around supporting his message and work," Moore said. "Also, not being a part of the African-American community myself, I always try to seize opportunities for increased education and understanding about African-American culture."
"Get on the Bus" shows the journey of several African-American men traveling from California to Washington, D.C. on a bus to go to the Million Man March, a true historical event that occurred in 1995.
Along the way, the bus breaks down and the men encounter other issues, such as racism, personal differences and others. The men make it to D.C., but something happens to one of the men that forces the rest to consider their decision to attend the march.
Moore said he was thrilled with the characters and their stories.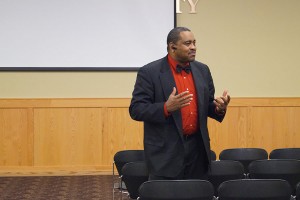 "After being inundated with one-dimensional stereotypical black characters in American mass media and film, this was a breath of fresh air," Moore said. "I loved watching each of the characters in this film display very different passions and struggles, while all representing being a part of their African-American community simultaneously."
Jessica Pilkerton, education junior and treasurer of TDH, said she attended the film screening with other TDH members. Pilkerton said she and the other TDH members felt several different emotions while watching the film.
"While watching the movie, I noticed myself and other TDH members laughing at certain parts of the movie because at some points it was generally lighthearted," Pilkerton said. "However, towards the end there wasn't a single dry eye out there. I think we all felt different tugs at our hearts because at some point we were all the people on the bus, the feeling of exclusion. Now with our group, we've become one in the same and can only grow in equality."
Joseph Grant, lecturer of criminology and criminal justice, led the discussion about "Get on the Bus" after it ended. Grant said the issues discussed in the film are still prevalent in today's society.
Moore said when he goes anywhere, he wonders if the situation will be OK or if hate will be directed toward him. He said that when the African-American men in the film went into a bar filled with white men, that situation turned out to be OK, and this was encouraging.
In response, Grant said everyone needs to be vulnerable to a certain degree by putting themselves in settings they normally wouldn't be in, because this creates opportunities for different people to learn about and understand each other.
Grant said it is important for everyone to befriend themselves and interact and talk with other people, regardless of their backgrounds.
"You never know when an act of kindness may go viral," Grant said.
Pilkerton said she and the other TDH members who attended benefited from seeing "Get on the Bus."
"We realize as a whole there's still so much work to do in this country and it begins right here on the home front, which I believe this movie was intended to show," Pilkerton said.
Tanzania Thomas, communication junior and a member of TDH, said she believes "Get on the Bus" honors King's legacy, and she thinks his legacy should live on forever.
"It's about we as humans accepting one another despite our differences, whether it be religion, race, gender or sexual orientation," Thomas said.