SPC holds second Open Mic of spring 2016 semester
The Student Program Council's second Open Mic of the semester featured a full slot of performers.
The SPC held the Open Mic on Tuesday, Feb 9 at 12:15 p.m. in The Commons. The performers showcased singing and comedy skills to students, faculty and staff.
Lindsay Payne, psychology freshman, was the first to perform. Payne performed karaoke songs, including  "Goodbye Earl," "Streets of Heaven" and "Cowboy Take Me Away."
Payne said the members of her sorority, Phi Sigma Sigma, recently introduced her to the SPC.
"All the songs that I sing have something to do with me or my own life," Payne said.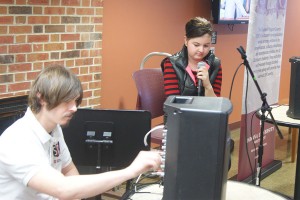 Kelly Howard, psychology junior, performed "I Want You To Stay." Howard performed the song without background music, relying only on her phone and natural voice. Several students applauded after she performed.
Jay Wyngard, criminal justice sophomore, did a comedic sketch. Wyngard discussed five New Year's resolutions she wanted to make this year, such as being more patient,  playing more golf and using hair curlers properly.
When discussing her resolution to use hair curlers properly, Wyngard said she frequently had curlers in her hair while sleeping.
"Do not use this if you are sleeping," Wyngard said. "Well howdy do! I guess I have been doing that wrong. See, I wake up in the middle of the night and see myself styling my hair, and I'm like 'Dangit! I am sleep styling again!'"
Wyngard also spoke about appreciating good golfing techniques during her comedy performance.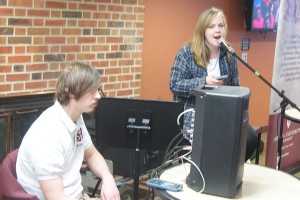 "You know you make that perfect hit, and you drop the club because it is so good?" Wyngard said. "You don't drop the beer now, let's not get crazy now."
Dakota Wetzel, undecided freshman, said he enjoyed watching and listening to his first Open Mic because he thought it was entertaining.
"The Open Mic singing was nice," Wetzel said. "I like to listen to music."
Richard Stottman, music junior and arts and entertainment organizer of the SPC, said he was confident things went well.
"We had some really great performers today," Stottman said. "At the Open Mic, we like to keep it diverse and give people an opportunity to perform."
Stottman said the next Open Mic will occur Tuesday, March 15.