IUS to hold Dance Marathon
IU Southeast is holding a dance marathon that will raise money for Riley Hospital for Children in Indianapolis.
The Indiana University Southeast Dance Marathon will take place Saturday, March 19 at IU Southeast from 1 to 9 p.m.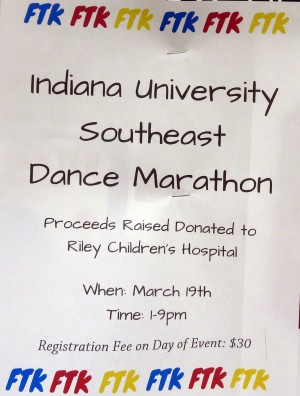 The dance marathon will last eight hours and will include dancing, food, games, activities and guest families from the Riley Children's Hospital.
Alexis Swearingen, business junior in the marketing and management concentrations, said she is in charge of coordinating the event and working with all of the committee members.
"The goal is to bring all IUS students together for one philanthropy event. We want to raise money and awareness for the children at Riley Children's Hospital as well," Swearingen said.
She said IU Southeast used to have their own dance marathon committee a long time ago and held events like this every year. Swearingen said the committee stopped, so she is trying to bring it back.
Swearingen said members of Alpha Phi, Pi Kappa Alpha, Sigma Kappa, Phi Sigma Sigma, Zeta Phi Beta and Kappa Sigma have signed up to participate and are raising money for the event.
"All fundraising is done before the event and then the total fundraising amount is revealed at the event," Swearingen said.
Ethan Wells, business junior in the marketing concentration and vice president of Tau Kappa Epsilon, said TKE is also helping fundraise for the dance marathon. Wells said TKE has raised $1,500 for Riley Hospital for Children.
Also, Wells said TKE has been fundraising at tables around campus.
"We had tables all week this week and had them set up two weeks ago inside the UC," Wells said. "In the two weeks that we've raised money at tables, I'd say we've raised between $700 and $800."
Swearingen said only people who register or pay at the door are allowed at the event.
"The dance marathon is a closed fundraising event that only the individuals that signed up and raised money can be included," Swearingen said.
Individuals who want to attend can register the day of the dance marathon for $30. The fee includes $15 for registration and a $15 donation to the Riley Hospital for Children.
About the Contributor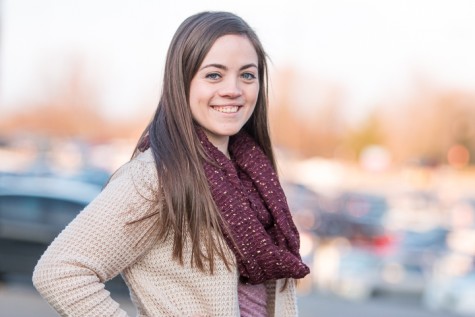 Katie Casper, Co-Editor-In-Chief (Spring 2017) Managing Editor (Fall 2016) News Editor/Social Media Coordinator (Spring 2016); Staff Reporter (Fall 2015)
Hello! My name is Katie Casper and I am Co-Editor-In-Chief of The Horizon at IU Southeast. I am a Multimedia Journalism senior with a concentration in...