Collision
The artwork of 10 students in one, new gallery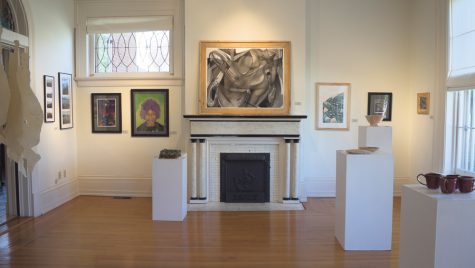 They started from scratch and created a space that welcomed viewers.
Donna Stallard, senior lecture and foundations coordinator, taught a class called Gallery Practicum. This class teaches students how to select a venue for an exhibition, make frames, prepare artwork, design postcards for exhibition, create labels and host a reception. Stallard had 10 students enrolled in her class and they all collaborated to create a gallery at Arts Council of Southern Indiana called Collision. The art gallery is located on Market St in Downtown New Albany. The gallery was opened to the public on March 18 and will stay open until April 28.
Stallard said that aside from finding the venue for the gallery the students did everything.
The class worked really well together and everyone helped make Collision possible, Stallard said.
"This group was really proactive," she said.
Stallard allowed all of the students to select their own art medium and create pieces incorporating their own style.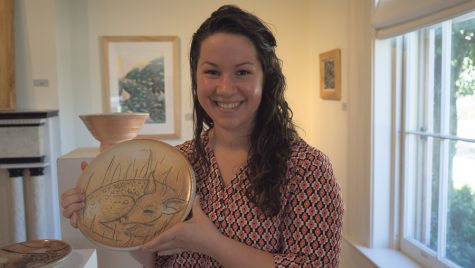 She said that this time her class was more focused on having the students' frame their own pieces.
The gallery was titled Collision because all the pieces were so different and the class did not have a focused theme at the start.
"It was basically everyone bringing their work to the table and seeing how they fit together," Stephanie Hensen, graphic design junior, said.
Hensen made three pieces for the gallery, Lance, Jeremiah and Ian. The pieces are vector portraits, which is a form of digital art.
She said the pieces are of her boyfriend who is in the army and is going to Afghanistan, her brother who is at Purdue and her father who has cancer.
"I really just wanted to make portraits of them to show that they were really important pieces in my life," Hensen said.
In the gallery there is a fireplace and above the fireplace a large piece called Figure 8 was hung. This piece is by Noelle Wilcox, printmaking junior.
Figure 8 is a charcoal drawing on mylar paper. With the help of her father Wilcox handmade the ash wood frame that the piece was hung in.
The piece is of a figure layered with abstract lines that compliment the body.
Wilcox said she likes to draw abstract but that she has not had much training with drawing human bodies.
"I decided to combine my weakness with my strength and try something new," she said.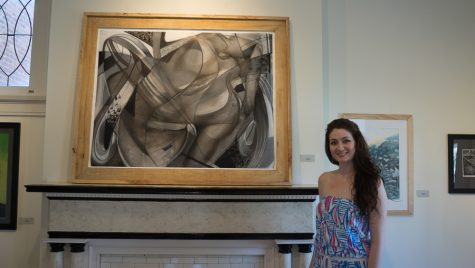 She said the most difficult element of this art piece was making sure her abstract lines did not conflict with the figure.
"I wanted the body to be hidden but seen," Wilcox said.
She said she titled the piece Figure 8 because she noticed while drawing that she had a tendency to move her hand in almost a figure eight motion. She also noticed that after the piece was finished that the figure almost looked like a figure eight.
Wilcox made another piece as well, which was called Adagio. This piece was a small abstract lithograph.
Correction: In the print version of this story and an earlier version of the online story, the information and quotes in the last six paragraphs were attributed to Hensen instead of Wilcox. The Horizon apologizes for this error.