Crestview computer lab gets an upgrade
The Crestview Lab – Student Technology Center underwent construction over the entire summer for new equipment and layout functionality. The Information Technology (I.T.) department oversaw these changes.
The Crestview Lab shutdown officially on this past commencement day to begin construction for the new lab technology.
Danny Clements, Associate Director of Information Technology Support and graduate student in business, said the decision was made based on information I.T. gathered.
"It started with an idea I had. We evaluate things and locations on campus every year," Clements said. "A lot of this is driven by data we collect, and it is a bunch of comments we've received on surveys or when we do tabeling events. We talk to students."
Clements said the data and surveys played a part in this lab getting re-done and brought this concept forward.
"Every two years I.T. does a massive survey of the entire campus," Clements said. "So we only have a few areas that are under completely our control to do what we see fit, and this is one of them."
Clements said I.T. had to stick within certain boundaries as far as what they spent but were not given a specific budget for the project.
Kathryn Combs, Lead Lab Consultant for Information Technology and fine arts junior, also helped oversee the construction.
"Originally we had a consultant desk with a bunch of cabinets behind it and then several rows of computers and three print release stations," Combs said. "Now we have a row of computers that are at standing height, dual monitor stations and places for you to plug in a laptop. We also have rolling white boards and soft seating."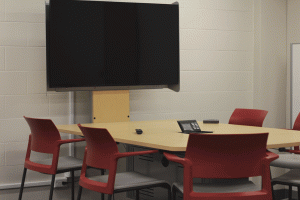 Combs said a new collaboration station was installed and the station's height is adjustable with the push of a button. She said it's really good for accommodating students who may be wheelchair users but it's also good for practicing presentations at standing height.
Combs said they also have four rolling white boards that can be used for group work.
"We also have white board markers, so if students want to borrow some they can come to the consultant, who will be sitting at the desk and they will provide them," Clements said.
Combs said the equipment is on a first come, first serve basis.
Another new addition Clements talked about is the lab's dual monitor setups where a student could hook up their laptop into a bigger monitor in order to use both screens at the same time.
"[Dual monitors] have been coming up in surveys for about four years now," Clements said. "When I talk to students, a lot of computer science students say they'd like a second monitor so they can turn it on it's side. That way they can see all their code while they still have a computer available to research, look things up or run their program on the other screen."
Clements said with Windows 10 you can take eight different windows and square them up across both monitors, so you could potentially be looking at eight different things at once.
"Another practical application is if you have an e-text or an article online you can have that on one window and then if you're typing your research paper you could have it on the other screen," Combs said.
A T.V. with lounge chairs is yet another new addition.
Combs said they do not have a computer attached to this T.V. so it is specifically for plugging in a mobile device, like a laptop or a tablet. She said students can bring a cable of their own and plug it in and it will then show up on the T.V. screen.
Clements said the Crestview Lab was a more semi-quite lab previously, but a lot of that had to do with how many people were crunched in there. There was also the possibility of students talking to each other, causing even more noise.
He said it is not a quiet lab anymore, but people will still need to get their work done.
"If somebody's in here and they are just blasting music for no reason, they might be asked to turn it down, but we really want to facilitate group work in this area." That's mainly what this [left] half of the room is, for groups to get together and work on stuff," Clements said.
Combs said one thing I.T. did receive was request for areas where students could practice presentations.
"So obviously when you're [practicing presentations] you're not going to be using your inside voice. You're going to be talking at full volume," Combs said. "So we do welcome that as long as they are not being particularly disruptive."
Another new feature added to the Crestview Lab are the row of standing computers. Clements said the standing computers come from data driven decisions.
Combs said there are hooks for backpacks, purses, keys and other things students would want to hang while working at the standing stations.
Clements said the standing computers are getting more attention than the standard sit down desk. He said people are not using them longer, but more people are using them.
Clements said they see around 90 percent of the students that come in the Crestview Lab, for the past four years or so, are only staying in there for five minutes or less.
"They get in, maybe check email, print something off, check social media, log off and go," Clements said.
Clements said this new wall with standing computers will facilitate the students' needs.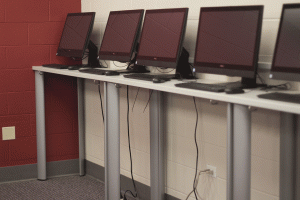 He said every lab has its own kind of unique data story.
"The whole campus has seen a decrease in computer usage," Clements said. "And that's one of the reasons we don't want to spend money just putting computers that sit around, don't do anything."
Clements said they get their information from data online, annual reports, broad scopes – showing what's getting used on campus.
"The library has seen a sharper decrease than the rest of the campus so we do think that this will help balance out some of that," Danny said. "If you want a quiet study space, the library is available to students. So we do think we'll see a balancing."
Combs said the Crestview Lab will be staffed throughout the week and closed on the weekends.
"So we staff from 8 a.m. to 8 p.m. Monday through Thursday and the lab is closed Friday, Saturday and Sunday," Combs said. "The lab is physically closed at 10 p.m. Monday through Thursday. So people are welcome to come in but there won't be someone staffed for the last two hours of the day."
Clements said they have a balancing act with their budget and that Friday this building only sees two classes which means utilization goes down.
Clements said there are also new LED lights that were installed and he hopes those keep the lab temperature down.
The Crestview Lab will officially be completed on Monday, Aug. 22, the first day of fall classes.