She's Got Them Dancing
Jane Blum enters her 15th year of ballroom dance instruction at IU Southeast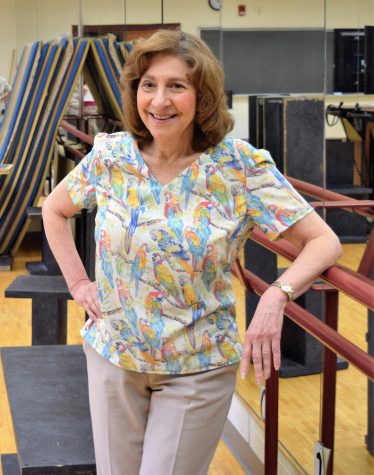 In Jane Blum's class, there are no pencils and there is no paper; instead, students are expected to bring with them some natural rhythm and the willingness to experience something new.
"Today I will begin Waltz for the 15th time," Blum exclaimed.
It was 20 minutes before her first session of the fall semester, and her students were already lining up, some nervously glancing at the mirrored wall that lines the dance studio.
Blum, an adjunct faculty member, has been teaching ballroom dancing in the underbelly of Knobview Hall for the past 15 years.
"It is always a happy job. The dancing and the laughing, the endorphins are flowing. What's wrong with that?" Blum said. "Nothing! It is so wonderful."
Her course is structured differently than other 16 week long courses.
The entire course is broken down into five week long segments and the segments are worth one credit each. Students have a choice f how many segments they take. In the Ballroom I, Blum will teach the Waltz and the Rhumba. In Ballroom II, she teaches the Tango and the Mambo and the third session, Rhythm I, features the Merengue and West Coast Swing.
The course garners roughly 20 students per semester with the majority of students being female. Some of Blum's former ma
le students loved the class so much they return, some of them for years afterwards, to help even out the numbers so that they can get through the dance queue more quickly.
Students are not the only ones stopping by to help out. IUS faculty members James Kauffman, professor of communication studies, and Subhranil De, associate professor of physics, stop by nearly every week to assist with the class.
Kauffman has known Blum for over 15 ears and was the Dean of the School of Arts and Letters in 2002 when Christa Zorn, who was both a professor of english at IU Southeast and a patron of Blum's dance studio, made the recommendation that Blum teach ballroom dance on campus. Kauffman approved the recommendation and has been helping out in the class since it began.
"We don't have much to offer in physical education outside of sports and we had nothing in dance," Kauffman said. "It is social and physical. Students tell me they enjoy it because it takes their minds off things. Some also enjoy it because they learn social dances that they can use on special occasions such as weddings."
De met Blum when he began volunteering to help out in her class in 2008. He volunteered because of his love for dance.
"I have been drawn to ballroom dancing since I was a graduate student at University of Rochester.," he said. "Dancing is an exuberant and invigorating art form."
De said his favorite dance is the Waltz, a dance he said he developed a fondness for due to the grace it requires.
"Back in Rochester during my graduate student days there used to be an annual Viennese Ball on campus where there would be a live orchestra playing Waltz and Polka music. People would go with dates, dressed in formal attire," De said. "Being a part of such fond memories, dancing will remain a fond thing for me."
De said that as much as he enjoys dance, he is hardly good at it, which is something that he is comfortable with thanks to instructors like Blum.
"I rarely practice outside of class these days, and feel like the perpetual amateur! I love the way Blum teaches," De said. "She is a very jovial lady and imbues her teaching with humor. We learn, we laugh, and we dance. Students love the class and admire her very much."
Blum presents a well rounded introduction to the world of dance in which a student can expect to learn the basic principles of ballroom dancing. Her students learn to dance with a partner, to lead, to follow, they learn about the history of each dance that is taught, then they learn about the music, rhythm and timing."Each dance has a basic [element] and the student has to know that, has to learn it pretty much right away," Blum said.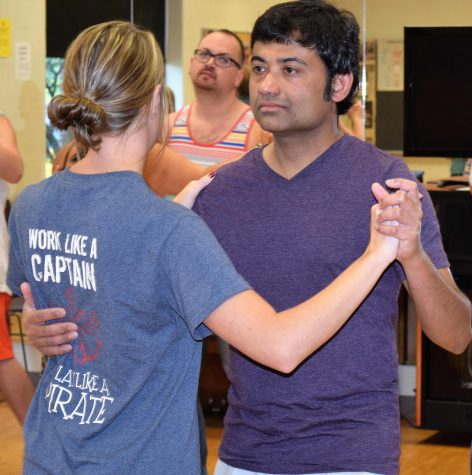 For example, the basic in the Waltz is learning a box step, she teaches that element the first day of the session. "From that I emphasize timing, you have to move with the music, otherwise it does not work very well," Blum said. "The third thing is being able to connect [with a partner] as far as leading and following. Another thing I emphasize is the character of the dance."
"The Waltz is very formal, very posed. The couples stand off center from one another, it almost seems snooty in a way." Blum said. "They must stand that way so that the couples on the floor can rotate around each other. There is a reason for the stance."
Blum has a history with dance, and it all started 26 years ago when a high school biology teacher met and fell in love with a ballroom dance instructor.
"My late husband was a ballroom dance teacher and he invited me to the dance studio. I wasn't a dancer and when I watched people dance I never saw so much joy and happiness surrounding a room," Blum said. "It was just so wonderful and I thought 'I want to be a part of this!'"
From that point on she worked with various coaches and eventually went to Otterbein College where she earned her Dance Educators of America (DEA) certificate.
Blum has taught and continues to teach at various locations in the surrounding area. From 1991-1995 she taught in a studio that she co-owned with her late husband. Then she taught at various venues until 2002 when she opened up her own studio on Bardstown Road in Louisville. Her studio remained open until 2006. It was there that Zorn, convinced her that she should come teach ballroom dancing here on campus. In 2002 Blum became the first and only ballroom dance instructor at IU Southeast.
Kyle Forinash, professor of physics at IU Southeast, also knew Blum from before she taught classes
at her own studio. He and his wife happened upon her dance class while taking a painting class next door to Blum's class. They decided to check it out and really enjoyed it, so they began to take regular lessons.
"Dancing is moving to music, it is a physical interpretation of what you hear. Any kind of organized dance (ballroom, salsa, contra, etc.) ends up being more fun because it involves more of you mind-body connection than just jumping up and down with the music," Forinash said. "I was pretty sure she would be a great teacher for IUS because of her low key way of introducing people to dance."
Forinash said he finds it interesting how people who are typically not shy suddenly become very bashful on the dance floor.
"[Blum] understands that and can get even the shyest dancer on the floor (we were very shy at first too but she helped us get past that)," Forinash said.
From the beginning Blum had a desire to teach dance rather than to compete in it.
"I started as a social dancer, and I have remained so," she explained. While she has a great respect for those who compete in ballroom dancing, she never shared the desire. She said felt more pulled towards the teaching aspect of it.
This desire has led to a long and rewarding career. According to Blum, one of the most rewarding experiences about teaching dance is when her students go on to compete or continue their dance education in another studio.
"They have enjoyed what they learned here and want to continue to do it outside of the university." Blum said. "It wasn't just for a grade. It was really something for them culturally, it was something for them personally."
Experiences such as these are what drive the passion Blum has for her work and she has no intention of slowing down any time soon.
"I love it!" Blum said."I wouldn't do anything else."