The Sound of Our Souls
IUS sophomore talks about his upcoming project and the path that led him to complete it
With a mother who sang as first alto in her church choir since she was 10 and a father who was a professional disc jockey, it may come as no small surprise that their son turned out to be an aspiring musician.
Delmar James Pruitt, Jr. or DJ Pruitt, as he prefers to go by, is a young R&B and Soul artist who was born and raised in Louisville. Pruitt, a speech communication major and theatre minor in his sophomore year at IU Southeast, is about to drop his first original independent project.
"Mixed Emotions" is expected to drop on a multitude of social media music sites between Sept 25, 2016 and Oct 1, 2016.  Pruitt can also be seen performing live on Thursday nights at The Haymarket on East Market Street in Louisville. He is a regular performer for The Vibe Open Mic Night, hosted by Sasha Renee and B Klass Entertainment.
Despite living and recording in Louisville, he chose to attend college at a smaller campus in southern Indiana so he could better focus on his studies and his career.
"I knew what I wanted and I wanted to stay true to those goals," Pruitt said.
As if the demands of trying to make it in the music industry were not enough,  Pruitt adds to that the challenges of working a full time job as a hotel bellman, and taking on a full course load. Though Pruitt would generally describe himself as laid back, his determination is evident as he describes the challenges of trying to find balance between school, work, and the recording studio.
"For a while it was hard for me to balance out recording music and having to study for tests," Pruitt said. "My freshman year it was really difficult for me to make that transition and really focus on studying, but eventually I got it."
Pruitt said his mother has had a big hand in his academic success since he was in high school. Pruitt's mother was an educator for the Jefferson County Public School system for over 20 years. He described many nights where he would be at the recording studio and his mother would call him back to the house to finish a paper or a project for school.
"My mom has always been very supportive. She was the one who got me to keep singing when I first started," Pruitt said. "She has always been very encouraging of what I want to do and at the same time pushing me at school, academics always came first with her."
"Education is stressed in our home because we all know education is the key for a sustainable better life," Crystal Pruitt said. "DJ has always been drawn to music,I noticed when he was a toddler he would sing along with the jingles to a television or radio commercial and was always singing along at church with the congregation."
Pruitt said with musicians for parents there was always music in his home growing up. He did not start actually learning how to sing until his freshman year of high school. He would come home after school every day and start singing runs.
Runs in singing are when a vocalist starts at a high note and goes all the way down to the lower ranges in a manner of seconds, runs can also be sung from low note to high note as well.
His mother would hear him singing the runs and she would instruct him on how to better control his voice. She then encouraged him to keep singing and join the choir at Seneca High School. While in choir he received further talent coaching from his choir director, Melinda Cumberledge.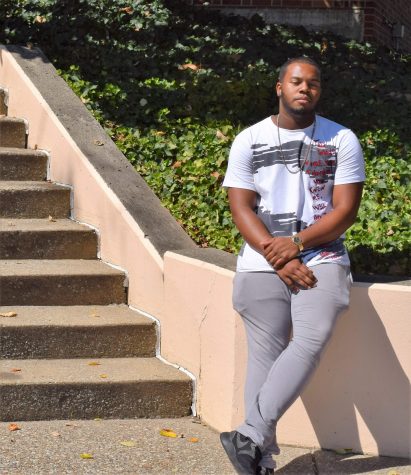 "It was a joy to have DJ in class," Cumberledge said. "He was serious about improving his skills and sticking to the task until he accomplished it.  If he didn't know something he asked questions and always sought feedback about how to grow his talent. DJ has very strong musical convictions.  He remains true to his art and his talent."
Pruitt remained in the choir for the duration of his high school career, eventually making it to the award winning advanced choir his senior year. During Pruitt's senior year of high school, he lost his father.
Pruitt was 17 years old.
"I was worried about how things were going to happen, how things were going to fall back into place. It was my sisters who really took it more to heart as opposed to me.," Pruitt said. "Me, being the only boy, I took it as: I got to step up and be the man of the house now."
With his father's loss still fresh in Pruitt's heart, a renewed determination came to him while singing at an event where he and his fellow choir singers opened for Susan Boyle.
"It was really a life changing moment for me because Susan Boyle's music is so passionate, emotional, and heartfelt," Pruitt said. "Being able to sing for her a month after my dad's passing was really an eye opener that I am still in this and that God has still got me."
Since then, Pruitt said has worked hard to achieve both his academic and musical goals. Like any musician he has experienced setbacks, such as people not wanting to take a chance with him, or not being able to get audio engineers or other artists to collaborate and make the music.
Despite the hardships, he has had some success from 2015-2016. He is becoming more known in the local area and has recently had offers from two independent recording labels in Louisville, Goldboyz Entertainment and 50 Deuce Sounds. He is also in negotiation to sign on with a manager.
Pruitt said the loss of his father, as well as the ups and downs of trying to make it in a tough industry have provided a lot of fuel for his current project, "Mixed Emotions." The project consists of six songs and a bonus track of a piano rendition of one of the songs.
"I pull inspiration from life experiences as a young African American growing up in today's times," Pruitt said. "As an African American male, as you grow into a man, there are so many different things that happen, It's a crazy world and I find inspiration to talk about how I feel towards things."
One of the songs from the project, "She's the Only One," has received a lot of buzz online. Pruitt said he was really ecstatic when main stream artist, Richard King, from Songbook Entertainment retweeted the song and encouraged his Twitter followers to check Pruitt out.Pruitt also collaborated with other local artists on a couple of the tracks. His song "Going Crazy" features Louisville rapper Matthew Hayden, who has been a friend of Pruitt's for two years.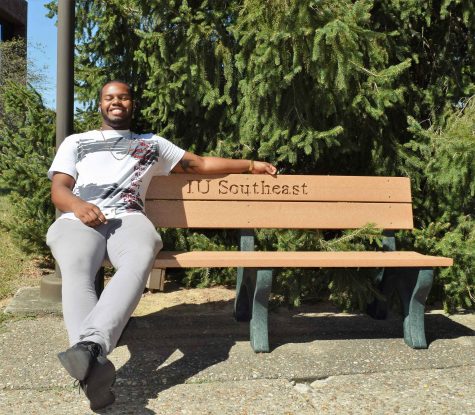 "DJ makes quality music so I already knew when he told me he was working on a new  project it would be great," Hayden said. "He is hungry. Success isn't just a possibility with him, he's just waiting for it to happen. It's hard finding artists his age that are as determined as he is."
Herlon Robinson, professional musician and current local radio personality for 101.3 FM has been a mentor to Pruitt since they met two years ago at an event Robinson was hosting. Pruitt was one of the local talents performing at the event, after which he approached Robinson and asked if he could send Robinson some of his work to be critiqued. Since then Pruitt has sent Robinson most of his work to evaluate, including some of the songs featured in "Mixed Emotions."
"He definitely has an ear for what is popular right now and he is trying to infuse it with more of an R&B feel with his melodies and vocal delivery," Robinson said."His greatest strength is his passion for the music. He definitely has a passion, drive, and hunger to succeed."
For Pruitt, the most important track on the project was the song, "Mixed Emotions."
The lyrics express how much he has been through as far as music and business goes.
Pruitt said it was how he interpreted what was going on in his city at the time. He explained that there seemed to be a lot of disunity in the music industry as he was trying to put the project together. For Pruitt music is the key to uniting people
"You make good music and everyone can come together, perhaps just for that time," Pruitt said. "Music is the sound of our souls."