Spotlight on the Dean of Arts and Letters
Jim Hesselman.
Does that name ring a bell?
Some might remember glancing at his name when they were reading the program for IU Southeast's production of "Angels in America" in 2015 or "Guys and Dolls" in 2016. Others might have seen his name when they were getting ready to sign up for the Acting I class. Or they might have seen him a time or two at Derby Dinner Playhouse acting in shows.
But really, who is this man they call Jim Hesselman?
For several years, Hesselman has resided in Southern Indiana and has worked as an actor, a playwright, a director, and was an associate professor of theatre at IU Southeast.
He equated the first time teaching to directing, something he had done for 35-40 years.
"You have a rehearsal schedule, you have goals, you have a certain amount of time to learn things you're supposed to learn (the play), and you have communication to actors like students," Hesselman said. "It was like second nature."
Ashley Wallace, the assistant professor of theatre in performance, said that during her time as an adjunct professor, she had never seen a tenured professor give of himself so selflessly to his work and his students, as well as showing his unparalleled devotion to the department.
"It was inspiring to watch Jim with his students," Wallace said. "His relationships with them were strong, and he always had the ability to see what they needed as students, theatre artists and human beings."
Hesselman was asked to be the dean of the School of Arts and Letters during the spring semester of 2016. He said that when he was asked to be the dean, he laughed for 10 minutes. But after he looked into it, he said that it is no different from producing.
He said he was told that he would have to deal with budgets, he would have to deal with people, and that it was not always going to be pleasant. Hesselman added that he could do it and that it was just producing, and as the details changed, he became less nervous about being the dean.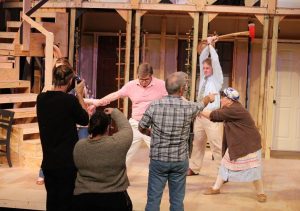 Hesselman said that being a dean has been a reminder for him that he has to be patient with a slow-going process, that he has to be willing to go one pedal at a time because the more people are involved in a process, the slower the progress is. He said this was hard for him.
Wallace said she has enjoyed watching Hesselman transition into the new position.
"He's fighting very hard against the idea that a Dean's first year is a learning curve year when nothing gets accomplished," Wallace said.
"In theater, I could put in 1,000 percent for the temporary amount of time because I knew there was an end," Hesselman said. "But here, I have to be my own arbiter of time because you're never going to be done, and that notion is frightening."
As dean, one of Hesselman's goals for the School of Arts and Letters is making sure they know their identity. He said there are so many different programs and different majors in one school, and not a lot of people know who Arts and Letters is. Once the school knows who they are, he said they can market their identity.
Another goal Hesselman has for the School of Arts and Letters is fundraising. On Jan. 16, Arts and Letters had their first fundraiser at Derby Dinner Playhouse, and Hesselman said the proceeds would go to the School of Arts and Letters. He said he wants to have the fundraiser annually, but he wants to use all the programs in Arts and Letters to help fundraise.
"I want to use different programs, anyone who has an idea and can help make the event fun," Hesselman said.
He said that he'd like to do something different every year and hopes the school will come together next year.
"The money could go to so many things. We have so many programs that could use so many things," Hesselman said. "We could spread the money and use it for other programs, things that fall to the bottom that will never rise to the top, such as furniture for the lobby, student projects, not just scholarships."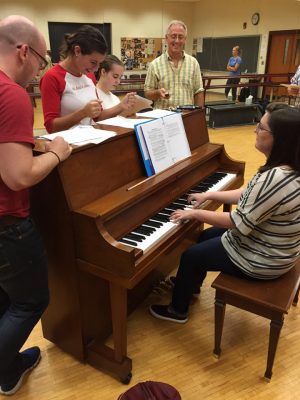 Wallace said that Hesselman's selfless attitude towards his work and students have not changed since becoming the dean of Arts and Letters with the exception of the expansion of his responsibilities and departments.
"He's put his creative genius to work finding new and exciting ways to fundraise and give support to each department in the school," Wallace said.
Dustin Behr, communications sophomore, said he is glad that Hesselman is the dean. Behr said he first met Hesselman his freshman year when he took his Acting I class and worked with him on "Noises Off" and "Guys and Dolls," where he was leads in both casts.
"He had welcomed me and other students with open arms and taught me a lot," Behr said. "His style of directing is the style I really enjoyed working with."
Behr added that Hesselman is a very funny, kind and amazing professor/director and he is glad he knows Hesselman, not only as a teacher but as friend.
Copeny Pruitt, a theatre major junior, said that Hesselman is perfect for the job as dean.
"Jim is very encouraging and gives you that boost of confidence to make you feel that you can do anything with your major," Pruitt said. "In all of his acting classes that he's taught, he would always make sure you push yourself to be a better actor."
Wallace said she wishes Hesselman all the best, and looks forward to watching his tenure as dean unfold with tons of success.
"As the professor who now inhabits his old office, it is a comfort each time he passes by and pokes his head in, still making sure that professors and students are being taken care of," Wallace said.