Streamlining Through the Waters of Success
If there is one thing most athletes are known for, it's leaving a legacy.
Former Olympian Mark Spitz said you forfeit your chance of success if you don't give your best at all times. That is the legacy he said he left behind for swimmers. He said it's that same attitude of wanting to be better he took with him into the business world to become a successful entrepreneur and businessman.
Spitz came to IU Southeast as a guest speaker for the Sanders Speaker Series on Tuesday, Feb. 7 at 6 p.m. in the Stem Concert Hall of the Ogle Center. He said he came to IU Southeast to talk about his pathways to success, his theory as to why he was successful and the lessons he learned along his journey.
Spitz said his journey began when he was nine years old. He said he started his swimming career by accident when he swam the length of the pool nonstop during a swimming activity at the YMCA.
In 1959, he said he joined the Arden Hills Swim Club's swim team. During one of these meets, he said he received a fifth place ribbon. He said he saw that only the top three swimmers make it on the swimmer's podium.
"If I perform well, I could make it to that top stair," Spitz said.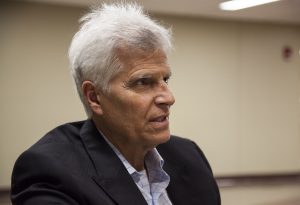 He said that was the last day he decided he would receive a purple ribbon.
Spitz said his dad moved him to Santa Clara Swim Club in 1960. There, he would swim under George Haines, who would coach him again in 1968.
After swimming in Mexico City for the 1968 Summer Olympics, he said he went to Fort Lauderdale, Florida, to see IU Bloomington's James Edward Counsilman, also known as coach "Doc" Counsilman to seek out a swimming opportunity. He said this was the best decision he ever made.
Spitz swam for IU Bloomington and later went to the 1972 Summer Olympics in Munich. Here, he won seven gold medals for team and individual events, and would set world records that would not be broken until 2008 by Michael Phelps at the Beijing Olympics.
After the Summer Olympics in 1972, Spitz retired. He said he received several endorsements, got married, had two children and did a lot in the business world.
During the '80s, Spitz said he went into real estate development for condominiums. He said it was a $60 million project which would be considered a $300-$400 million project today.
A biography from the Harry Walker Agency said Spitz was one of the largest residential real estate developers in Southern California and was involved with eight figure apartment development in Hawaii during that time. Spitz also started a successful real estate company in Beverly Hills.
In addition to his real estate portfolio, Spitz said he is into private equity and still manages real estate. Spitz is also a public speaker and continues to give motivational speeches at events.
None of these things would have happened if he didn't invest in himself and take the skills he learned from swimming and apply them to business.
In swimming, he had to attend practice. He said he had to learn how to be diligent. And through this journey, he continued to work hard and stay committed, which resulted in his success.
Spitz said throughout his life, he had to make the choice to not be afraid of making choices and to be proactive in all that he was doing.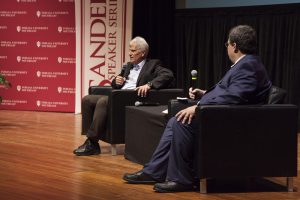 Spitz said he learned that if he had a dream, he had to be the person who inspired himself.
Spitz said to those in the School of Business, the keys of success for him were being a good listener, listening to the client, adapting to situations, being flexible and being in the moment.
He added that people needed to take that step out of their comfort zone and to see what happens.
"Nothing will happen unless you act on it," Spitz said.
Clayton Gulley, business junior, said it was interesting when Spitz said with every great athlete they know their competition. He said  this is something he wants to apply in business.
"To compete, you gotta get inside their head so you know how to make moves accordingly," Gulley said.
Dave Tash, an autograph collector, said he didn't realize how big Spitz was in the business world.
"It was neat to know how positive he was and how he said you always have to take that chance," Tash said.
"At what level do you wanna be great?" Spitz asked the audience. "If you wanna be good, go to where the good people are and fight your way through the crowd."