IUS Celebrates Culture at the International Festival
The tantalizing sound of foreign music and the enticing smells of exotic food filled the Hoosier Room Tuesday evening at IU Southeast's annual International Festival held by the Office of International Programs at IU Southeast.
According to Valerie Scott, senior lecturer in psychology and co-director of International Programs, it takes about a year of planning to line-up performers, reach out to international organizations from Kentuckiana for information tables and put together the menu.
"It's an opportunity to bring new people to campus and give them a chance to showcase many of our cultures," Scott said. "It's an opportunity for staff and students to experience these cultures. It's a safe and convivial environment."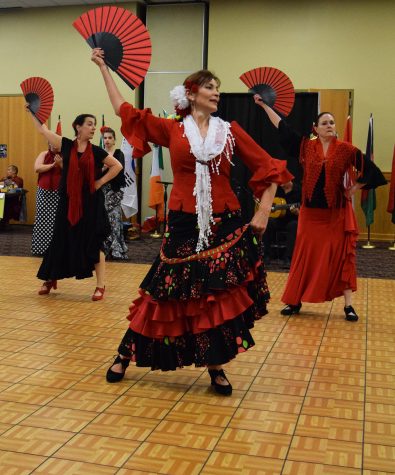 IU Southeast Conference and Catering, Aladdin's Cafe, El Mercadito Grocery Store, Israel's Delicias de Mexico Restaurant, Kim and Bap Korean Restaurant, Kizito Cookies, Wiltshire Pantry and many student, faculty and staff volunteers for IU Southeast worked to bring it all together. Many of the contributors donated gift cards that were used at door prizes throughout the event.
At the cost of $5.00 per child/student and $8.00 per adult, patrons of the festival got to experience a wide array of international food tasting and entertainment.
The entertainment featured live performances from Flamenco Louisville, Greek Music by Kosta Skandamis and Friends, Louisville Lion Dance Team, Crescent Moon Dance Company, Hindu Sacred Dance and Zimbabwean marimba music by Zim Marim.
"I love the festival," Charles Pooser, associate professor of French and international studies, said. "I've been a part of it ever since I have been here. I love all the food. Everything is so nice and put together. It's a joy to be here."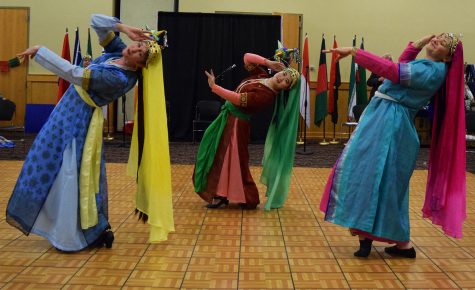 Pooser was at the festival representing the modern language department and had a table set up with artifacts from the different parts of the world where French is spoken. His table was one of more than 20 different informational tables at the event.
Various members of Louisville's foreign language and international communities put together tables and talked to patrons about what their organizations accomplished and answered questions about their rich and diverse cultures.
Maggie Klein, German and communications freshman, put together a table of her own for the festival. As the current president, Klein was there representing the IU Southeast German Club. Klein said this was her first time at International Festival and she was proud to be a part of it.
"I have German heritage and I've spoken German for five years," Klein said. "It's a passion of mine. The fact that I'm allowed to represent the German speakers and students of the school is incredibly amazing. It means a lot to me."