Mesa – A Collaborative Kitchen
Many people dabble in watching cooking shows, wanting to learn a thing or two from a professional about how to cook delicious food from the comfort of their own homes. However, often these meals can be complicated with difficult-to-follow recipes, leaving you wishing you would have just gotten takeout. Wouldn't it be nice to be face-to-face with a chef in real time, without driving too far from home?
Luckily, Mesa, located on Pearl Street in downtown New Albany, aims to provide just that.  Mesa is an up-and-coming collaborative kitchen classroom, featuring demonstrations with step-by-step instruction by local established and aspiring chefs. The space, which opened this past summer, offers cooking classes and demonstrations, while also housing a bookstore, pantry, to-go dinners and a cookware boutique.
Bobby and Ysha Bass, Mesa's owners, said they took a chance with the idea of Mesa after working for years in realty.
"Food really is an important part of working as a realtor," Bobby Bass said. "Good food can mean a good close on house."
The Bass' said the combined demonstration kitchen and storefront gave them the "Cracker Barrel business," laid-back feel they were wanting; allowing them to create a space where customers could learn and have fun without stress.
"We offer everything from imported spices with thousand dollar price tags to spices you can find locally just around the corner at Brooklyn and The Butcher for just a couple bucks," Bobby Bass said. "We wanted to give the option of luxury while still keeping it close to home."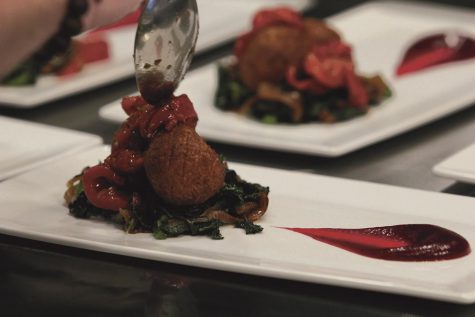 Currently, Mesa is hosting anywhere from four to six demonstration events a week; however, Ysha said that finding chefs to host events wasn't always so easy. She said she and Bobby Bass started reaching out to chefs in the area, asking them to provide shows and demonstrations. They said it was difficult at first but that the business picked up quickly once the chefs started referring one another. As their popularity has grown, Mesa has connected and hosted events with chefs from Tennessee and Indianapolis.
Mesa's events seat 23 people and tickets range from $40 to $100 depending on the complexity and duration of the events. Bobby Bass said that although the events can often get pricey, it's worth it for the quality time spent in the kitchen with the chefs. He said they kept the kitchen and events small to maximize the time attendees have with the chefs.
He also said they host simpler events in an effort to ensure everyone has a chance to attend, even if it's not in their budget; including a weekly Wednesday Wine and Chocolate event with local based company Cellar Door Chocolates. Mesa's full event list with featured chefs and ticketing information can be found on their website.
"We want our customers to be able to communicate and have fun with the chefs and keeping the groups small is the only way we knew how to make sure that happened," Bobby Bass said. "They can chat, ask questions and spend the time here to their full capacity."
Bobby Bass also said they chose to keep the venue smaller as it aided in his vision of a place of escape for himself and his customers. Bobby Bass and his wife wanted a safe zone for people to relax, have fun and get to know one another without thinking about the trivial things going on in society.
"The world has gotten really tense lately and we just wanted to give our customers a place where negativity wasn't allowed. A place to have fun," he said.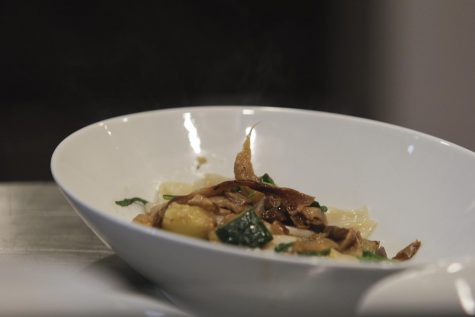 Even when demonstration events seem sparse, Mesa counteracts by offering private event options for anything ranging from weddings and birthdays to small get-togethers and team building events in the workplace. Unlike most catering establishments, Mesa works around the event you want to have; choosing chefs that specialize in the food and drinks you want and plan according to your schedule, according to Bobby Bass.
"The menu for private events is entirely customizable," Bobby said. "You want Mexican for your event? We make sure we find someone who can create real, authentic food and beverages. It's all about you."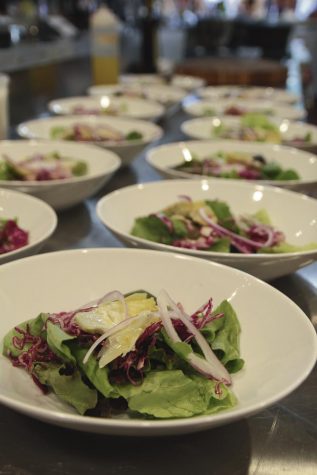 Among all the commotion of their successful business the Bass' said they are most excited for what Bobby Bass called the "so you think you can cook competition." Though all the information has not yet been revealed, Bobby and Ysha Bass said the competition will take after the hit TV show, The Voice, featuring twelve contestants and four judges who will decide which cooking amateurs they want to take under their wing for a three week long competition. The competition will leave just four contestants at the end to battle for the title of best cook. Ysha said the event is free and open to the public for anyone 16 and up to join. More event details are coming later this month.
"It will be our most fun event held here yet, we are very excited," Bobby Bass said. "We don't always get to include kids and I think it will be cool to have them compete from all age groups."
Mesa has just began to make headway in the downtown New Albany's food scene but nothing is slowing them down. Whether it be a food demonstration, a private event or a foodie cook-off, from the looks of it, Mesa has more new and exciting things to offer New Albany.