Angels in the Outfield
"July 16th was probably the hardest day of my life to get through," said Santrel Farmer, freshman education major.
During the summer of 2017, Farmer and his cousin, Tariq Jibreel Armour, packed for college and anticipated the next stage of their lives—a transition they often talked about as they grew up together.
Although Armour was his biological cousin, Farmer viewed him as a brother because he lived with him on and off since the age of three years old.
With Farmer going to play baseball for IU Southeast as a utility outfielder and Armour planning on pursuing a football scholarship with Georgetown College, the brothers were eager to begin their first semester of college.
"We grew up saying we can't wait to go to college, we grew up talking about the life we were going to have after college, and how we were going to be each other's best man," said Farmer.
What should have been a riveting time in their lives turned quickly without warning.
On July 16, 2017, Armour went to Green River Lake State Park in Campbellsville, Kentucky. While in the water, he was taken by the lake's current and drowned.
After the accident, Farmer said his outlook on college wasn't the same. He no longer felt compelled to go to college or play baseball because he was supposed to go to college with his brother.
Farmer was later convinced that his brother would have wanted him to pursue his goals and aspirations in life because that's what they always talked about. With this in mind, he eventually made the decision to step up to the plate and start his college career at IU Southeast.
Compared to other first year students, Farmer's experience was adequately different. At an exciting time for many freshmen, he was grieving the recent loss of his cousin who was more like a brother. The first couple of weeks entailed sleepless nights, early morning workouts, schoolwork and baseball practice.
The freshman was consumed with thoughts during his daily routine and didn't know how to cope with it all. He imagined it would be different once he settled in, but it wasn't.
Through the support of his friends, family, teammates and girlfriend he stayed on task with his schoolwork and pushed through the beginning of the semester. His girlfriend, Marly Walls, was a tremendous inspiration for him to continue as he prepared for his future.
Farmer said, "She was always there for me. If I needed her to come over at 1:00 in the morning, she would, and I can't thank her enough for it. Just for what she's done for me."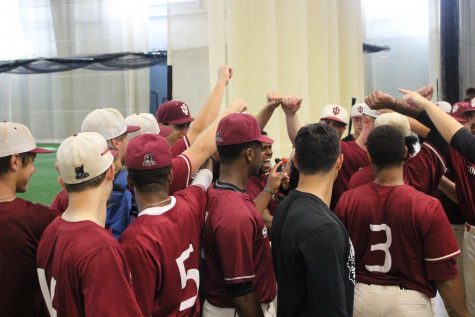 Farmer confided in his teammates, they offered an open ear and provided encouragement as well.
"They were worried about me, but that's the main reason why we're so close right now. I feel like, because they know that I got their backs and I know that they got my back through anything."
The outfielder describes baseball as his serenity. It's his opportunity to get his mind off of negativity and the stresses of college. When he's out on the field, he's at peace.
"Baseball helps me get my mind off it, because when I'm out there on the baseball field, I'm having fun with everybody," said Farmer. "We're always crackin' jokes. Baseball is one of my go to's."
Farmer said that once he got into the flow of things, he changed his perspective on the situation he was given. He uses this experience to motivate himself through his college career. The freshman plans to follow in the footsteps of his parents in the education field. He intends to become a physical education teacher and eventually an athletic director.
Farmer describes his cousin as a people person who didn't have problems with anybody. Armour always told jokes and, according to the outfielder, his jokes weren't always funny but he knew how to keep Farmer laughing.
"He was always smiling," said Farmer. "I don't know why. But me and him were always smiling."
The cousins planned on getting tattoos together before heading off to college but the accident happened before they were able to do so. However, Farmer held up on his end of the deal and got a tattoo in remembrance of his brother.
Across Farmer's left bicep reads, "For we live by faith, not by sight."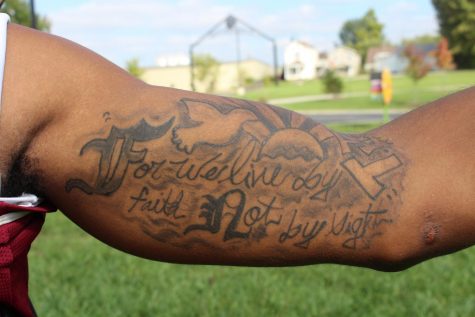 "By sight, Tariq isn't here anymore and I'm not seeing him," said Farmer. "Nobody else is seeing him by sight but if you're a believer in God, by faith, he's always going to be right next to me."
The freshman explains that, though he cannot see his brother anymore, he is always right next to him. Farmer was also gifted Armour's necklace as well.
"His mom gave it to me as like a keeper to keep me safe through college and keep me going whenever it's a hard time," said Farmer. "I wear his necklace with pride. Everybody knows why I wear it. Everybody knows who's it truly is."
Farmer ultimately understands his circumstances as a blessing. There isn't a day that goes by where the outfielder doesn't think about his brother but by his philosophy Armour is with him at all times.
The gold necklace hanging from Farmer's neck reflects the recent ink on his skin and symbolizes the bond he continues to have with his cousin.
When Farmer is in the outfield, he feels his cousin is right beside him and is reminded of his presence every time he glances down at his left arm.
"I always think about Tariq everyday," said Farmer. "Now instead of being sad about it, it just makes me happy that I know that he's always going to be there with me and he's watching over me every single day even in the classroom, when I'm just chilling at home, or at practice, I know he's there."