Musgrave Touches Down at IU Southeast
Astronaut, Story Musgrave, brought his story and his message to IU Southeast at a sold-out Sanders Speaker Series keynote at the Ogle Center
Story Musgrave is a jack-of-all-trades in the purest form of the word. From growing up in child labor, to the Marines, to the Great Unknown, this real-life spaceman is much more than that. A man without a high-school diploma managed to rise in military and collegiate education to the level of multiple doctorate and masters degrees. He was chosen by NASA as a scientist-astronaut in 1967.
On Feb. 26, Musgrave walked out to a standing ovation from a sold-out crowd at the Ogle Center. Now a keynote and motivational speaker, Musgrave travels the country delivering a message of perseverance and providing words of advice to all.
"Out of 6,000 applicants, we all had done research, seven of us went to space," Musgrave said. "And I had more vacuum time than any human on Earth."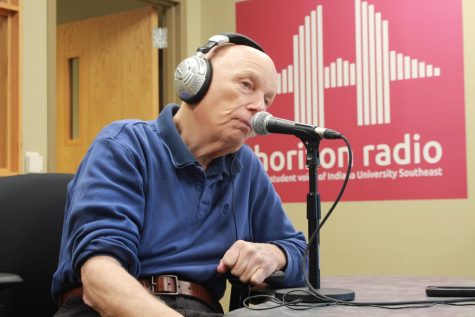 Exclusive with Horizon Radio
Before his sold-out performance, Musgrave sat down with members from Horizon Radio on campus for an exclusive interview covering his experience, extraterrestrial life, and world perspective.
When asked about alien life, Musgrave said he's seen no evidence supporting any visitations to Earth, yet is dead-set on the universe full of life. He said he even got in the habit of praying to extraterrestrials, out of optimism and curiosity.
"At least I pray to them. And people do think that's funny, and then I ask them if they pray, and they say 'of course'. Well don't look at me funny cause I pray," Musgrave said. "Pray just means to be mentally in saying 'I know you're there. I'm here, and I'm here for you. You come, I go.'"
Despite his beliefs, he admits he's taken some controversial photographs from space that look wild but in fact can be explained. One example includes the loss of objects such as tools as he opened the doors of the Challenger.
"It is Home Depot leaving the ship. I'm talking washers, I'm talking whole tools. The whole thing is Home Depot leaving the ship. Now that's not impressive, but if you don't know the history of that video, and you photograph those things a hundred or two-hundred feet away, it is outrageous," Musgrave said.
An Unpredictable Life
Musgrave, 83, said he never could have dreamed his life would turn out the way it did. Growing up in 1935, there was no space program for the first half of his life. He said he was a young man lost, but drunk with the joy of learning, continuing to indulge in whatever the next adventure was.
"
Out of 6,000 applicants, we all had done research, seven of us went to space. And I had more vacuum time than any human on Earth."
— Story Musgrave, astronaut
"Life has to happen. But I had to grow, one step at a time. I'm a product of child labor, I mean brutal child labor on the farm," Musgrave said. "Where's that going? I don't know. Then I'm a heavy construction equipment mechanic, and we finished the Massachusetts turnpike, so I'm temporarily out of a job. I never finished high school. When you got no education and no job, you join the Marines. Where's that going? It's one step at a time, just [checking] stuff off."
Musgrave said although he couldn't possibly know his future, he did all the right things to present himself with the opportunity to live the life he did. He said setting personal and short-term goals are good and productive, but the end goal is a mystery.
"You don't know where [life] is going. The important thing is to keep moving. You can't know," Musgrave said. "Technology happens so fast, life happens so fast, and the different kind of opportunities that arise. But I was doing the right things along the way, leading to be a space-walker."