Ladies of the Morning
Hi-Five Doughnuts changes the face of food creativity
Just like their namesake, Hi-Five Doughnuts says their business is that of a friendly hands-on celebration of sweet indulgence and an ode to Louisville pride.

Hi-Five said they wanted to shy away from the "derby inspired everything" branding and instead decided to coin their shop after another Louisville tribute, settling on "Hi-Five." Hi-Five said the name was inspired by the said to be inventors of the hand gesture, Wiley Brown and Derek Smith of the Louisville Cardinals men's college basketball team. It is said Brown and Smith invented the gesture during their 1978–1979 season.
Owners Annie Harlow and Leslie Wilson or "The Ladies of the Morning" as they call themselves, met as college roommates where they worked at the same restaurant. The two went their separate ways after graduating when Wilson moved to California and Harlow stayed local in Louisville but remained friends for over a decade.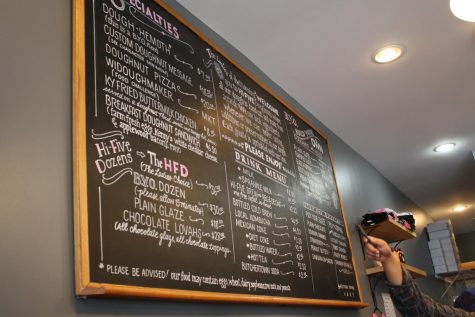 Then in 2013, the soon to be co-owners began their journey in the doughnut business with two tables and a tent. Their first gig was at a flea market in 2012, where they sold out within hours, Wilson said.
Through saving all their money from doing sales wherever they could find the space, the pair bought their food truck in 2014. With much success following their decision to adopt a food truck, the two vowed that their ultimate goal was to build a storefront that would make Louisville proud. This dream was accomplished in March of 2016 with a permanent location in Louisville.
At Hi-Five, customers can build their own creations with a number of simple to wacky glazes and toppings to choose from. In addition to building their own doughnut, they can also choose one of the many staples the shop has become known for — from fried chicken atop a habanero glaze to Pop Rocks accenting an Ale 8 glaze or classics like Kentucky Fried Buttermilk Chicken Doughnut, the Bourbon Caramel with Bacon, and the 'Sugah Doughnut'.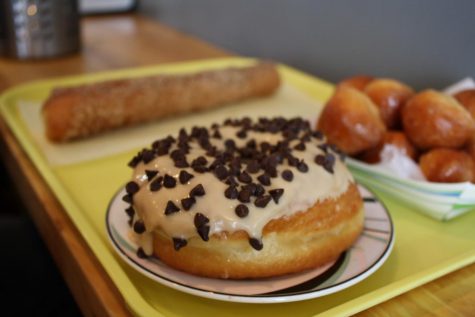 "We want to be a destination place for Louisville," Wilson said. "We get a lot of people that travel in town … We have lots of followers from the West Coast to the East Coast. People in Spain, France, people from all over the world follow us on Instagram."

Wilson said much of their inspiration comes from things they see online, their childhood favorites or just a trip to the grocery store.
"I will walk through a store and will look around and say 'that would be good in/on a donut'"  Wilson said, "and sometimes the combos are great and sometimes they aren't. It's more about having no boundaries with ideas."
The shop has been named one of the top Food Trucks in the South by Southern Living. The shop has also been featured in the book, "Breaking the Glaze Ceiling," by Lyle Sussman which focuses on their entrepreneurial success.
Hi-Five has since been booming with customers visiting every day, eager to try what the doughnut shop has to offer. Wilson said they hope to franchise Hi-Five in the coming year so they can spread their treats beyond their Butchertown location. Either way, The Ladies of the Morning say they are eager for the next step in their doughnut adventure.
Hi-Five is located on E. Main Street in Louisville. They are open Tuesday through Thursday: 6:30 a.m. to noon and Friday through Sunday: 7 a.m. to 2 p.m.