Purr, Play, Sip, De-stress
Purrfect Day Cafe Owner Chuck Patton wants to create events for college students to relax with adoptable cats during exam times
What happens when you put college students in a room full of kittens for 50 minutes? The pawsibilities are endless.
Purrfect Day Cafe opened its doors in Louisville Aug. 8 as the first cat cafe to come to the city. Located in the heart of the Highlands, the cafe serves snacks, desserts, coffee, tea and alcohol. However, the main draw is its cat lounge which offers patrons the ability to spend 50 minutes with adoptable cats from the Kentucky Humane Society and potentially bring home a new feline family member.
Owner Chuck Patton said that offering events and specials for college students is something the cafe is considering.
"Really what we're trying to do is run a lot of events that might take place," Patton said. "One of the most important ones is what we can do for college kids and how we can help [students] de-stress."
Patton said there's a common theme that everybody experiences when they come into the cafe which is the ability to have fun and relax — something important for college students to feel during stressful exam times.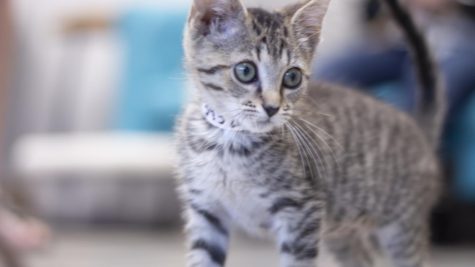 Patton also mentioned having these events later in the night because, like college students, the cats enjoy staying up late.
Cat Lounge
The cats do not roam around the cafe. Instead, they are enclosed in their own room, the cat lounge.
The reasoning behind this cage-free environment is so cats and kittens can socialize with people and other cats which may help them become more adoptable in the future. The cafe's website refers to this approach as the "cuddles, not cages" concept.
The cafe has been open for 13 days, and around 70 kittens have been adopted — surpassing their initial goal of reaching 30 adoptions in the first month.
Entrance to a 50-minute cat lounge experience is $10 per person during the week and $12 per person on the weekends.
Those interested in visiting the cat lounge are encouraged to book a session at http://www.purrfectdaycafe.com to reserve an opening. Walk-ins are accepted, but access cannot be guaranteed without a reservation.
Menu
The collaboration with the Kentucky Humane Society isn't the only partnership for the cafe. Menu items feature foods and drinks produced by local businesses as well.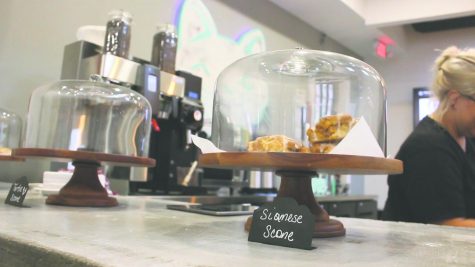 Cat-ppetizers are provided by Lotsa Pasta.
Paw-stries are baked by Najila's.
Paw-pcorn is made by The Popcorn Station.
Paw-fee is coffee produced by Quills.
The menu also features "meow-cohol" including wines and beers. Great Flood Brewing Company's Bar Baby Blonde Ale is available on tap and locally produced in Louisville.
The cafe is located at 1741 Bardstown Rd. and their hours are 10 a.m. to 8 p.m. Sunday – Thursday and 10 a.m. to 11 p.m. Friday – Saturday.