Campaigning from the Classroom
Students are getting involved in local campaigns for the 2018 midterm elections
College students voted more in 2016 than in 2012, according to a study by Tufts University's Tisch College. Voting is one way to support a political candidate, but some students are taking a more direct approach by volunteering their time to local campaigns.
Kimberly Wrigley
Senior criminal justice and business management major Kimberly Wrigley has been working on Ron Grooms' campaign since September. She has been working as a campaign manager for Grooms, who is up for re-election as the state senator from Indiana's 46th district.
Wrigley said her interest in politics is a recent development. Her plan to attend law school next year lead to her working on her first campaign. Her internship at a law firm this past summer put her in a position to work with two attorneys who were running for district court judge.
"It started the fire," Wrigley said. "I started getting really passionate about it. So from there, that opportunity came up and I just jumped on it and sent my resume. I was excited to get involved with a campaign."
Wrigley learned about the position on Ron Grooms' campaign through IU Southeast alumnus Roger Howard. She sent Howard her resume and he got her in contact with Grooms. Wrigley said she values working on Grooms' campaign because of his experience and his position on Indiana's Senate Committee on Family and Children Services.
"This will be his third term so he's been in there, he knows what needs to be done," she said. "He's very well liked and respected by people and not just in his party. So, I think that's definitely something he brings to the table that his opponent does not."
Wrigley said she believes IU Southeast has a variety of voices that need to be heard in the upcoming midterm elections.
"You can't complain about the problem if you're not going to try to help. And yeah you are just one vote but if enough of you work at things like this, if you try to make more of a change, you can influence a lot of people. So, your one vote is a little more than just one vote," she said.
Jonathan Van Deusen
Jonathan Van Deusen, a political science major and pre-law minor, has an internship with the State Democratic Party. He holds a field-organizing position on Joe Donnelly's campaign for reelection as the senior U.S. Senator from Indiana. He said that he found out about the position this summer, through a contact who knew he had a passion for working in politics.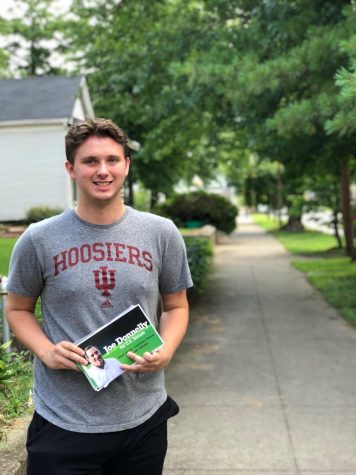 "I'm recruiting volunteers to come help and volunteer on these campaigns. We need people to go out on campus and come into our office and make phone calls, just get the word out about Joe Donnelly and other Democratic candidates," Van Deusen said.
According to Van Deusen, every vote matters but it is common for people to believe that their vote isn't significant in an election.
"Regardless of what you say, one vote can be the difference in an election. That's why every vote counts … That's one way in particular that you can let your voice be heard and your opinion be heard and making a difference for the candidate you choose to represent you," he said.
Van Deusen said that while senators generally don't work for their constituents anymore, Joe Donnelly represents the interests of Indiana residents well.
"He's willing to stand up and make his voice be heard and actually take the time to listen to the people he's representing," he said. "I feel like that's not a trait a lot of politicians have."