IUS expands its diversity
Departments like Admissions and the Office of Equity and Diversity find new ways to attract a diverse student body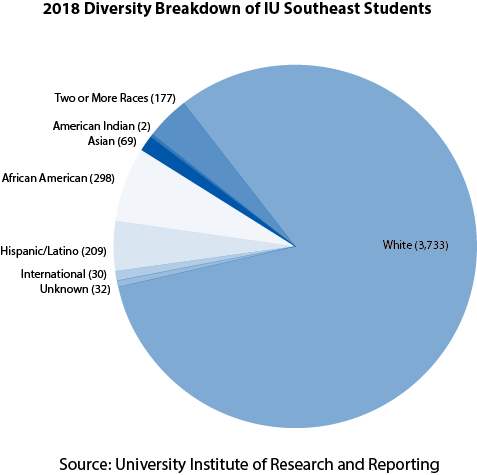 Students who identified as non-white made up 22.4 percent of the fall 2018 incoming first-year class. This is compared to 12.4 percent in 2014. Departments such as Admissions and the Office of Equity and Diversity are taking steps to bring our campus closer to reflecting the community surrounding it. According to the U.S. Census Bureau, in 2017, residents of New Albany, IN identified as 17.4 percent non-white. 
How is our campus increasing diversity?
Chris Crews, director of Recruitment and Admissions, discussed the recruiting process.
"Our efforts to recruit a diverse student body are outlined in our current recruitment plan," Crews said.  "Goal four of that plan is to 'Increase overall diversity among incoming students to be more reflective of our region.' While many of our initiatives intersect with that goal, we have worked to recruit and support a diverse student body including international students."
Systemic barriers to entering college, such as the lack of funds for multiple application fees, or lack of knowledge about scholarships, are being addressed in the efforts to recruit diverse students to campus. These barriers can make college seem inaccessible to some students. 
A key component of recruiting initiatives has been to mitigate the impact of those barriers to the application and enrollment process. For example, one singular application for all Indiana University campuses is a barrier that has been addressed. 
Also, several scholarships for incoming freshmen have been transitioned to an automatic selection process. One of these is the McPheeters Minority Scholarship, which is offered to undergraduate students from an underrepresented minority background. 
"Those broader points of access to our campus and its resources promotes diversity by exposing those important elements to students that may not have considered our campus otherwise," Crews said. 
Seuth Chaleunphonh, director of Student Life, said his office is also working to reach students who require financial aid to attend college by making a stronger effort to promote campus visits and promote the filing of the FAFSA early, before the April 15 Indiana deadline for state aid.
How does having a diverse campus help the campus community?
Chaleunphonh said being exposed to different cultures is beneficial for students long after they leave college. 
"I have seen an increase in inclusivity by new students over the years," Chaleunphonh said. "But at the same time, students benefit from the personal interactions and hands-on experience of working with someone with a different background. This prepares them for the real world and the work environment." 
Jennifer Ortiz, assistant professor of criminology and criminal justice, said providing diverse perspectives can reduce the amount of discrimination. 
"The most important tool we have to combat racism, sexism and discrimination is education," Ortiz said. "Diversity is also essential to learning all subject matter."
IUS Celebrating Diversity
Campus events are also reflecting the increase in diversity among students. Hispanic Heritage Month was from Sept.15 to Oct. 15, and the School of Social Sciences hosted several events on campus focused on Hispanic heritage. Ortiz said IU Southeast works hard to promote diversity, but there are more things that can be done to support the initiative.
"I think we could increase diversity events by providing student organizations with funds dedicated specifically to diversity events," Ortiz said. "I also believe that we should encourage faculty, from all majors, to host events where they can educate individuals about diversity-related issues."
Chaleunphonh said that he has seen improvements in how diversity is represented on campus.
"We have seen increases in our campus diversity programming from Common Experience events, National Hispanic Heritage Month events, to dialogues about current issues," Chaleunphonh said.  
A campus climate survey was administered in 2011, and there are plans for a follow-up in 2018 to see how attitudes and opinions have changed. Chaleunphonh said that feedback from students shows that a cultural center or hub is needed on campus. 
Right now, a diversity council and representatives for the students, faculty and staff, lead diversity efforts. Another goal is to increase engagement with the community and offer opportunities to host a variety of diversity-related community events on campus.  
"Having a worldview is ultimately incredibly important to our success as individuals and collectively as a campus and society," Crews said. "For some, college may be the first experience in learning about the world through the eyes of others. That's a priceless experience that adds value for our students."