The 91st Academy Awards is one for the (Green) books
A guide through the roller coaster of a night the Oscars put together this year.
Audiences look forward to the Oscars just about every year, even though there's usually an infuriating win or two. Yet they usually have such a strong list of nominees that one can understand why so-and-so lost and why so-and-so won. Not this year though.
This year, the Oscars lost all credibility when they decided to snub Ethan Hawke and Toni Collette's career best (and year best) work in First Reformed and Hereditary.
To make matters worse, a group of people actually decided, with a straight face, that Black Panther and Green Book, along with Vice and Bohemian Rhapsody were better movies than First Reformed, Can You Ever Forgive Me?, Cold War, At Eternity's Gate, and Hereditary, to name a few. Surely they can't be serious.
Well, they were serious, and don't call me Shirley. However, the dust has settled, and the Oscars have finally ended. It was a night filled with spots both bright and horrible along with some pleasant surprises and debacles. Let's get down to it.
This year marked the first time in roughly 30 years in which The Oscars went without a host. The result? It was actually not half bad. Sure, the presenters, which included Melissa McCarthy (a deserved nominee for Can You Ever Forgive Me?, Brie Larson, Samuel L. Jackson, and others, told a corny joke or two. Yet the show seemed to go by quicker, and it actually ended by its scheduled time of 11 o'clock. 
Now, to the negativity.
If you thought Bohemian Rhapsody was a somewhat terrible, lazy, conventional, easy cash-grab, then this show was no bed of roses, no pleasure cruise. A worry was settling that Rami Malek, who lip-synced with goofy teeth, was going to win Best Actor (which he did) over Willem Dafoe, Christian Bale, and Bradley Cooper (all of which actually, well, acted).  It is a thought that sent shivers down my spine (body's aching all the time).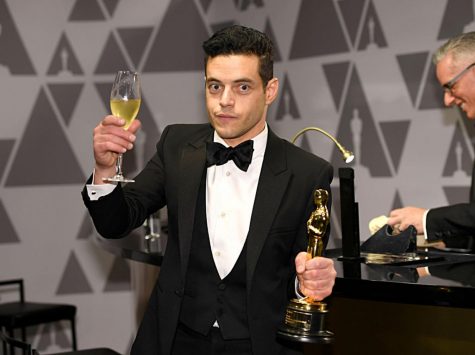 Out of nowhere, the film picked up three other Oscars, for Editing, Sound Editing, and Sound Mixing (it probably would be a better movie with the volume off), which means it has more Oscars than The Godfather. Supposedly, after Malek won, he fell off the stage and was rushed to the paramedics. Sounds like divine intervention. 
It was a pleasure to see Mike Myers and Dana Carvey together again. Though the circumstances could have been better (they were introducing Bohemian Rhapsody, which of course they jammed out to in Wayne's World, a better movie).
One of the highlights of the night was seeing Bradley Cooper (who actually did his own singing in A Star is Born, along with the writing, directing and producing) and Lady Gaga perform Shallow, which of course won Best Original Song, the film's only win.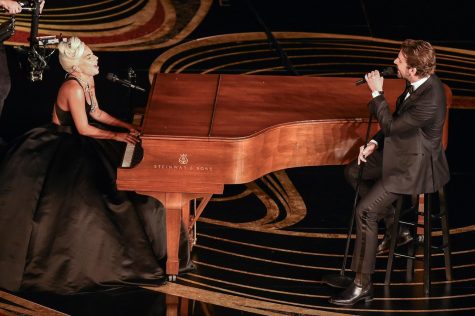 Mahershala Ali won his second Oscar for Green Book, and while it wasn't exactly my vote, the greatness of the performance is undeniable. The same goes for Regina King, who won Best Supporting Actress for If Beale Street Could Talk. Black Panther, which some thought would be the Best Picture nominee to go home empty handed, stole the Best Costume and Production Design awards from The Favourite, along with Best Score. Eh, Avengers: Infinity War was better.
As expected, Roma director Alfonso Cuaron picked up Oscars for Best Foreign Language Film, Best Cinematography, and one of the biggest awards of the night: Best Director (Cuaron also did the editing, the writing, and the producing, the latter two he was nominated for as well).
Spike Lee also won his (overdue) first Oscar for Best Adapted Screenplay for BlacKkKlansman, a win in the bag since its release last August.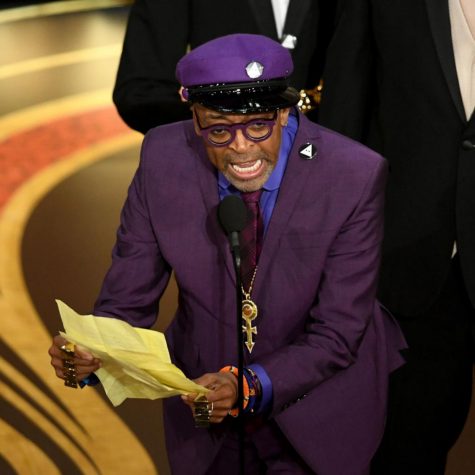 Though a moment of surprise came by the time Best Actress rolled around. Seven-time Oscar nominee Glenn Close seemed poised to take home her (also overdue) first Oscar for The Wife. Yet in a last-minute turn of events, Olivia Colman ultimately ended up winning for her magnificent, scenery-chewing, hilarious portrayal as Queen Anne in The Favourite (my "favourite" of the Best Picture nominees).
Colman, who was as surprised as we were, gave a lovely, heartfelt, hilarious speech- the best of the night. As for Close losing, Close is one of the greatest actresses we have, and she needs an Oscar. The Wife should've been her Oscar winning role, however. God willing, she will get her day soon.
Then to cap off the night was Best Picture, which is becoming more and more difficult to pinpoint. Going into the night, Roma seemed like the obvious choice to win. Since it had the most nominations, along with the guaranteed Best Director win, it seemed like a given.
However, it didn't seem quite locked up. Perhaps because it wasn't nominated for Best Editing (which isn't impossible to pull off, but it's a rarity). Perhaps it's because it is a Netflix movie (the first to get a Best Picture nomination).
Betting on Roma, though if another movie managed to pick up at least two awards (with one of them being major) then Roma would be in trouble. It wouldn't be Bohemian Rhapsody, which would become the first Best Picture winner since The Lord of the Rings: The Return of the King to win everything it was nominated for. Then suddenly, it became clear.
Peter Farrelly's Green Book, out of nowhere, won Best Original Screenplay (which it shouldn't have). At that point in time with its wins for Original Screenplay and Supporting Actor, it became clear it was going to win Best Picture (despite not having a Best Director nomination).
Bingo. Green Book did win Best Picture, which caused Spike Lee to run for the exit (seriously). People are up-in-arms about its win because it wasn't the best of those movies. Yet it was such a weak list as it was. By choosing this, it is kind of a step backward for the Academy, who appeared to be choosing edgier movies that might not have won 20 years ago (Birdman, The Shape of Water, Moonlight). Green Book wasn't the best choice, but they didn't really choose the best choices in the first place.
Hopefully, next year, they care more about the movies and less about what movies will attract ratings. Oh, and for those keeping score at home, it's:
Peter Farrelly (

Dumb and Dumber

,

Stuck on You

): Two Oscar wins

Martin Scorsese: One Oscar win.