Natalie Bowman: The Costume Queen of IUS
An inside look at the Theater Department's costume shop
Beneath the Robinson stage, an old storage room is now a fabric wonderland bustling with the activity of sewing machines, tailors and costume designers all thanks to the efforts of costume shop manager Natalie Bowman.
Ever since she was a kid, Bowman told herself she did not want to be a teacher, as both of her parents were educators. She ended up enjoying teaching while she was in school — a tendency that led her to where she is today.
Bowman completed her undergraduate degree at IU South Bend and attended Florida State University for graduate school. After that, she moved to the Kentuckiana area when she married her husband. Now she and her husband, an Indiana native, are both professors at IU Southeast.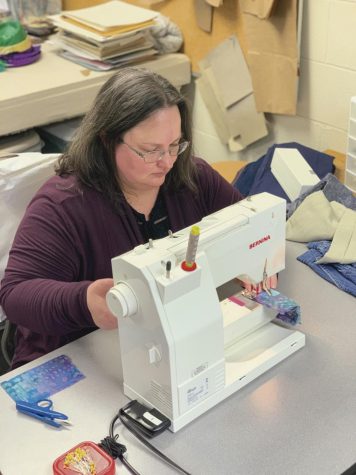 Maintaining Multiple Roles
Bowman's first teaching job was an adjunct position at IU Southeast in 2011. Now she is the costume design professor, costume shop manager and currently a fine arts lecturer.
She handles all of the theater department's costume, hair, and makeup needs. She said she loves when a performer "feels at home" in a costume she made for them.
People may assume costumes are normally bought, opened, resealed, and packed away, but that's not how Bowman runs her shop. Almost every costume is designed and created by her and she said she often has to hunt down certain pieces for specific costumes.
Constructing costumes isn't the only thing Bowman does — she also teaches several courses including a costume technology class, costume design class and stage makeup class.
"I'm the costume designer and the shop manager and those are, in some ways, two completely different skill sets," Bowman said.
Traditionally, the designer is the one who does research and draws up the costume while the manager of the shop creates it. Bowman handles both jobs in her costume shop. She said having to do this "stretches her mind" in a way that helps her teach her students more.
There's No Place Like A Storage Room
Since coming to IU Southeast, Bowman has made some drastic changes to the theater department's costume program.
When she first arrived, the costume shop was a storage room filled to the brim with everything from old props to Christmas decorations. She worked tirelessly to turn the shop into what it is today, even taking the time to set up her own office in the back.
"
I never thought working with costumes would go anywhere until I got into the costume shop."
— Alex Conn, junior, technical theater major
The Wardrobe Crew
Bowman does not handle all of the costume work on her own. She has a dedicated wardrobe crew that assists her in all of her work, such as designing and creating costumes and gathering and organizing supplies.
Three members of Bowman's crew include junior theater major Erin Hogle, junior technical theater major Alex Conn and senior theater business major Alyssa Fry. All members of the wardrobe crew are required to spend at least six hours in the costume shop per week, but said they spend more than that.
"I once put in 30 hours in the shop in three or four weeks," Hogle said. "During that time I went there every day after class."
This program allows students to gain the experience of working in a real costume shop.
"I never thought that working with costumes would go anywhere and I didn't even know my major until I got into the costume shop," Conn said.
The crew also said Bowman is one of the most patient professors they have ever met and that she truly wants her students to succeed.
Spreading Awareness
In order for the theater department to grow, Bowman thinks more people need to be made aware of it.
"I continuously meet people who say, 'I had no idea IUS had a theater department,' so I think that one of our goals should be to make sure the community knows we have a theater department," Bowman said.
Bowman said she hopes more people will learn of the department's existence, but until then she will continue to work in the costume shop 20-plus hours a week to give her students the best experience she can.