ACES celebrates record number of students declaring majors
Advising center helped 157 Grenadiers declare their major in 2019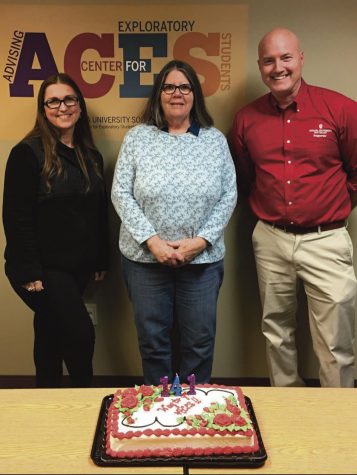 The IU Southeast Advising Center for Exploratory Students (ACES) helped 157 students declare their major in 2019, breaking the previous record of 141 set in 2018.
Founded in 2012, ACES exists to help students find a major that matches their goals, passions and interests. All students can consult with ACES, especially students with an undeclared major or those reconsidering their current major.
Shane Thomas has been the director of ACES since 2014. He said helping students declare their major is a source of pride and the reason his department exists.
"The whole reason we exist is to solve the problem [of declaring a major]," Thomas said. "We see so many students who don't know why they're here and they're often on the verge of dropping out."
Office Assistant Debbie Vietzke said ACES is a great resource for students struggling to find success at IU Southeast, but she feels the department is relatively unknown.
"I want students to be successful and it is easier to be successful when you've declared your major," Vietzke said. "They don't really understand that they need what you have until it's too late."
More Than Numbers
Thomas recalled an email exchange with a recent graduate and ACES student he worked closely with before she found her major. He said they talked at length about her love of nature and the outdoors.
After he pointed her to an online list of National Parks job openings, the former student said in the email that she was offered a job at Yellowstone National Park.
"That's what it's about, is finding your fit," he said. "I get paid a decent salary, but this is what it's all about."
"We get rewarded like that all the time — it's not all about numbers."
That student is one of many examples of Thomas helping students find the right major for them.
"I'll see people around town … and they'll be like 'you're the guy that helped me declare my major' and it's cool to be known by that."
Thomas said one of the best ways for students to decide on a major is to take an introductory course. Intro courses allow the student to get a sense of what the classes and subject matter will be like for each major.
"Taking the intro class gives them a sense of what they potentially want to major in."
Along with guiding students to popular majors and their intro courses, Thomas said he also enjoys making students aware of newer degrees like healthcare management and strategic communications.
"One of the joys of my job is making students aware of certain degrees," he said. "Once we make them aware of that sort of thing, then we go into what they'll be a good match for."
Value and Variety
ACES is a valuable resource for all IUS students, Vietzke said.
"The value is that you'll know what all of your options are before you make a choice," she said. "It's like a menu; if you only see the three things at the top, you'll say 'I'll take the hamburger' when you've got all these exotic meals that you don't even know exist."
Alongside his colleagues Debbie Vietzke and Cassandra Davis, Shane Thomas helps students from all interests and backgrounds find their path at IU Southeast.
"We force you to think about who you are; what your values, interests, personality type and skills are, and how to apply that … to what would be a good fit [for a career]," Thomas said.
"The variety is just unreal and we love it."