COVID-19 vaccine gives hope to returning IUS students
While some speculate, IU Southeast continues to administer free vaccines on campus
Last year caused a whirlwind of chaos for many people's lives. No one thought the COVID-19 pandemic would strike as hard as it did, especially for college students who have had classes over Zoom for months on end.
As 2020 ended and 2021 started, people began to see light at the end of the tunnel. Resuming "normal" operations in the world may seem far-fetched, but Indiana is well on its way to a safe atmosphere for IUS students to return to campus in the fall. 
"All classes being in person can be done," said Aaron Carroll, a pediatrics professor who is also the director of surveillance and mitigation for Indiana University. 
Carroll believes that by monitoring the disease throughout the students' transition to on-campus classes, students will be able to have in-person classes well into the future. 
According to data from the Kaiser Family Foundation, as the COVID-19 vaccine was released to the public earlier this year, the numbers of those infected has fluctuated some, but is currently at a steady 4%.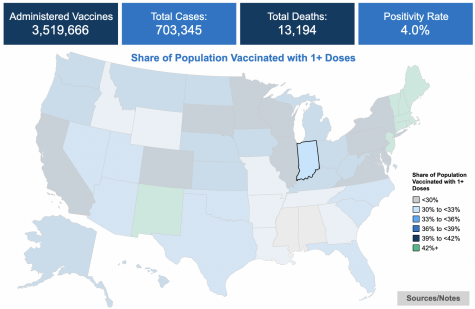 There has been some fear, however, that the Johnson and Johnson version of the COVID-19 vaccine could cause blood clots. ABC News reported that because of this, the Food and Drug Administration and Centers for Disease Control and Prevention have halted all doses of the J&J vaccine until further studies can prove it safe.
This does not scare Carroll, however, as only six cases of blood clots were reported in the U.S. in over seven million Americans who received the vaccine. 
"We don't ignore these side effects, we don't ignore these risks," said Carroll. 
Although people should not be worried about the J&J vaccine, the FDA and CDC are taking all efforts to keep people safe.
IUS has set up vaccination clinics called "Grenadier Clinics," and they, along with many other clinics, have switched to the Pfizer and Moderna vaccines for the time being.
Another area of concern for Indiana is the latest executive order by Governor Eric Holcomb, which includes the end of the mandatory mask mandate that occurred on April 6.
Wearing masks within governmental and schools buildings is still required, but wearing masks is still encouraged everywhere. 
Carroll said that while Governor Holcomb has been under a lot of pressure from the outside, he is doing what he believes is the next step for Indiana.
Students should not be too concerned about the end of the mask mandate, but should instead focus on what they can control. Health workers push the vaccine as the number one priority for students returning to campus in the  fall. 
"The best way to get everyone vaccinated is for you to get vaccinated," said Carroll. 
Students can sign up to receive their vaccine by visiting ourshot.in.gov.
Thomas Harris, the Floyd County Health Department officer, prides IUS on their amazing work to make the vaccine clinic possible. He said everyone on campus has been working so hard, including the nursing students who administer the vaccines. 
"I can't tell you how much we appreciate the help from IUS," said Harris. 
He specifically would like to thank all IUS nursing students who have worked hard at keeping people safe by being involved in administering the vaccines.
Harris said he is happy the vaccine clinics have done so well, and seeks to ease the minds of those worried about any new positive cases. 
"The vaccine is certainly what we need," said Harris. 
Students can rest assured that while there will be a sporadic number of COVID-19 cases for several months, it is nothing to be concerned about and will pass with time.
The future holds hope for those of IUS seeking to go back to campus for the fall 2021 semester. Keeping in touch with news stations is important, however, to continue to receive more updates on the development of Indiana's plans. 
"We want them to pay attention to the news," said Harris.
Students can see all the latest COVID-19 content directly on the CDC website.