Grenadiers surge past Fightin' Engineers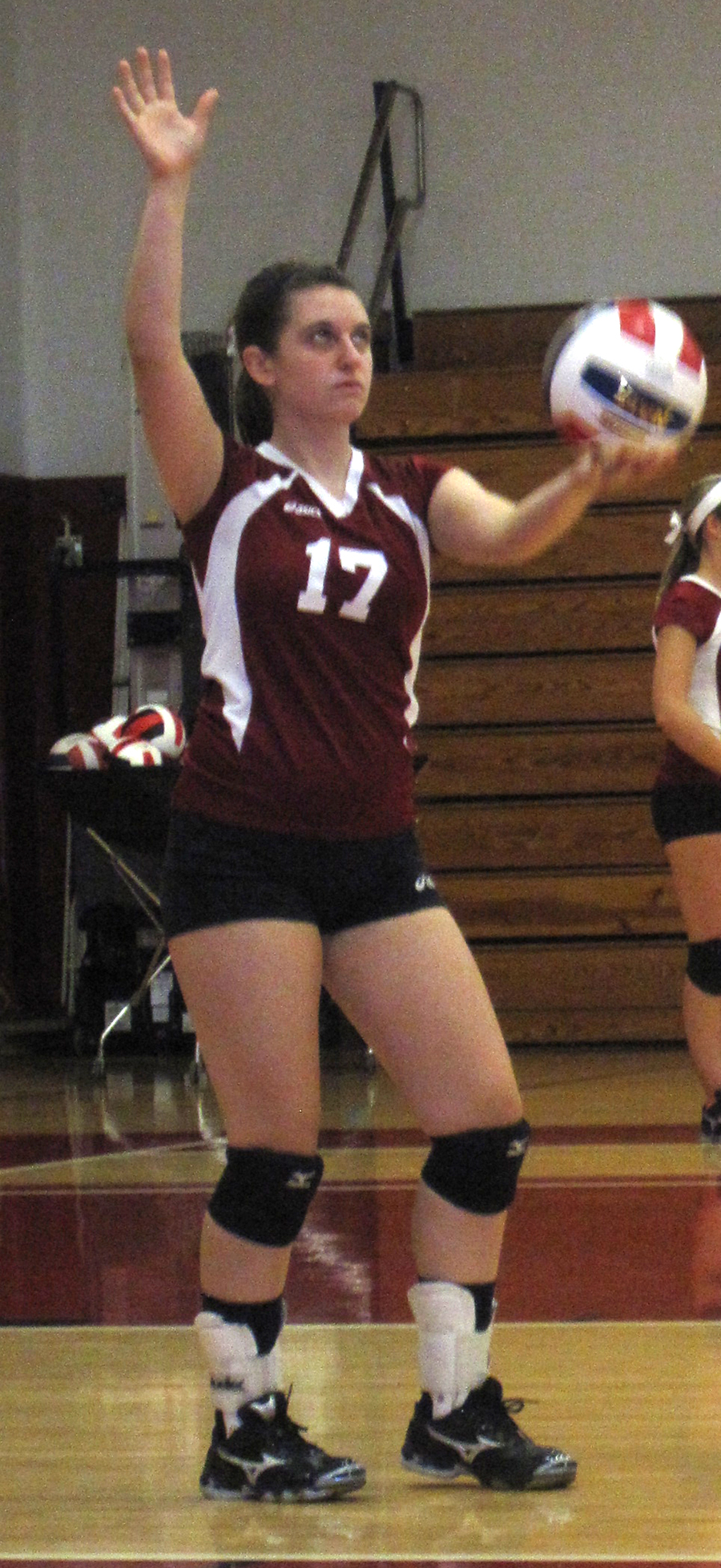 The IUS Volleyball team defeated Rose-Hulman Institute of Technology on Sept. 24 in the Activities Building.
The Grenadiers lost the first set, 25-8 and the third set, 25-22, but were able to pull out a win in the second, fourth and final sets, 25-22, 25-16 and 16-14.
"We definitely started slow, but we were able to come back and finish well for a win in the end," Lindsey Ragland, sophomore right-side hitter, said.
It was a back and forth battle between the Grenadiers and Rose-Hulman. Despite the close battle, the Grenadiers were able to defeat the Fightin' Engineers in the final set for a match win.
"We played awesome tonight," Katie Johnson, freshman setter, said. "We fought really hard especially places it counted. We played together and we were able to pull out a win."
The second set started off 11-5 in favor of Rose-Hulman, but the Grenadiers stepped up their game and recovered, beating the Fightin' Engineers in a close second set.
Jade Troutman, freshman middle hitter, led the Grenadiers with 11 kills for the match, followed by PJ Cockerell, sophomore middle blocker, with 10 kills. Julie Roeder, freshman outside hitter, had nine kills for the match.
The Grenadiers had a total of 15 errors for the night while the Fightin' Engineers had 21 total errors.
"I thought we did everything really well tonight," Ragland said. "Our errors were minimized, and we made great improvements in our ability to serve at crucial times."
Lesley Drury-Prather, IUS Volleyball head coach, said not only did the Grenadiers' serving improve throughout the night, but her team's defense was also at top performance against the Fightin' Engineers.
"I'm pretty proud of my team tonight," Drury-Prather said. "Their serving was aggressive and we definitely picked up a lot of balls tonight much easier than we had been. We may not have always gotten the point, but they definitely fought hard for this win with their aggressive attacks."
Despite the Grenadier's win, Drury-Prather said she thought her team still needed to work on making the right decisions during critical points in the game.
Johnson  contributed with 38 assists for the night. Lauren McCartin, junior libero and defensive specialist, led the Grenadiers with 16 of the team's 51 defensive digs, and Ragland had 12 digs on the night.
Drury-Prather said she hopes her team continues to play aggressively as the season progresses. "If they carry on playing hard-nosed volleyball with a play to win attitude, there is no reason we shouldn't continue our streak," Drury-Prather said.
The win pushed the Grenadiers' season record to 8-7.
"We fought really hard for this win and we were able to get it back from being in a deficit," Drury-Prather said. "I know we can continue to win if we play consistently and not let the future opponents get so many runs on us."
By COURTNEY
MCKINLEY
Staff
comckinl@imail.ius.edu