Japan disaster worries IUS student about family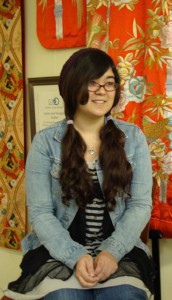 With new technology, it has become easier to keep in touch online.
Alisa Hamilton, English junior, took advantage of new technology during the recent disaster in Japan. She was born in Okinawa, Japan, and although she has lived in the United States for some time, her immediate family, including parents, brothers and sisters, still live there.
When she woke up and heard news of the disaster that had struck, she immediately tried to get in contact with her family. When her calls would not go through, she decided to try to reach someone through instant messaging.
"I woke up that morning," she said. "I saw on Google and saw warnings of tsunamis, and I tried to get on Skype to get a hold of my mother."
After a few attempts at contact, she was finally able to get a hold of her family, who relieved her fears and said their town suffered no damage.
A friend of hers, however, currently living in Tokyo — 230 miles southwest of the epicenter — told her effects from the earthquake could be felt there.
"He said it was one of the scariest moments of his life," Hamilton said of her friend.
The earthquake and following tsunami hit Japan on Friday, March 11. It was the largest earthquake to hit Japan in its history.
The following tsunami waves — which were reported to be up to 32-feet high — engulfed much of Northeastern Japan.
Patrick Rea, adjunct lecturer in geography, said he has traveled to Japan twice. Rea said he learned Japan experiences about 7,500 earthquakes a year, however, only about 1,500 can be felt.
Rea, who has not visited Northern Japan, said the greatest concern facing Japan is power and how they will continue to generate it.
"They built these plants with securities," he said, "but they didn't expect an earthquake of this magnitude. It's my understanding that they process uranium, and, as they come in contact with each other, they release neutrons, attacking the nucleus of uranium creating fission. When there's a breakdown and they can't cool it, it runs the risk of them melting."
Rea said although the melting of these rods will not create the effect an atomic bomb would, citizens and workers — especially in these nuclear power plants — will need to be aware of how much radiation is released.
"After World War II, they are very cognizant of what radiation can do," he said.
Gerald Ruth, professor of geosciences, said he believes the winter monsoon winds — which blow from land to sea in the winter — will help to disperse some of the radioactive waste.
Ruth said the Japanese built their nuclear buildings so they would be able to withstand an earthquake, but the tsunami waves are what can cause the most damage. In these situations, he said countries have to be ready for anything.
"You should be super redundant — backup, backup, backup," he said. "It's just amazing they would build nuclear plants so close to the Eastern Seaboard."
Ruth said Japan has always been on the frontier of gaining more knowledge of natural disasters.
"If anyone's going to build something fast, it's the Japanese," Ruth said.
Although reports are being updated daily, the Japanese Ministry of Internal Affairs and Communications has confirmed the effects reach more than 400 miles off the coast.
Hamilton, who had already been working hard to finish her degree in the next two years, said she hopes to go back and visit her family in Japan soon. Being in the U.S., she said she has realized how much she wishes she could be there to help.
"It's so different being in the states," she said. "It feels like I can't do anything. I feel like if I was over there, I could help more."
By JENNIFER SCHONSCHACK
Staff
jschonsc@umail.iu.edu