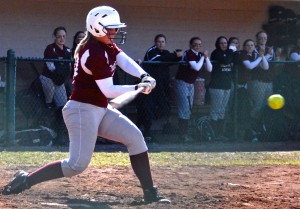 The Grenadiers edged out Concordia University, 3-2, in the first game and returned to sweep the second game, 12-4, in a doubleheader game at IU Southeast on March 12.
After a week of rain, flooded fields and rescheduled games, the Grenadiers took the field and got off to a slow start.
With two scoreless innings, the Grenadiers traded runs with Concordia in the third and fourth innings of the first game to keep the score tied 1-1 going into the fifth inning.
Concordia broke the grind by scoring a run to take the lead in the eighth inning before they were fielded out.
The Grenadiers answered with two hard-fought runs to win the game in the bottom of the eighth.
"[Concordia] really surprised me with how tenacious they were," Todd Buckingham, IUS softball head coach, said.
"That was their first time on the field this season," he said. "I think they will split with a lot of people this year."
The Grenadiers came out in the second game of the doubleheader and dominated Concordia.
With five unanswered runs in the first inning and four in the second, the Grenadiers set a commanding tone going into the third inning.
Concordia made several runs in the next few innings but could do little to match the numbers set by the Grenadiers early on.
With a score of 12-4 after Concordia's at-bat in the top of the fifth, the game was called on the eight-run rule.
According to the rules of the National Association of Intercollegiate Athletics Conference, an eight-run rule game shall be declared by the plate umpire if one team is ahead by eight or more runs after five innings.
"The biggest difference in the two games was Concordia's pitching," Buckingham said. "They really are a 'one-pitcher' team.
"I think [Amber Eckstein, Jenna Swain and Bethany Sullivan, freshman pitchers,] were great on the day," he said. "[Hanna Bettag, sophomore catcher,] also hit the ball really well for us in the second game with some big RBI's."
By SAM WEBER
Staff
samweber@ius.edu