Editor reflects on college life, shares lessons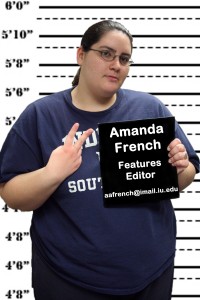 Rewind back to May 2006 to my high school graduation. I'm sitting in Our Lady of Providence's gym, listening to how college will be an exciting and interesting time in our lives. I remember thinking, "College isn't going to be that much different."
As I reflect on it now, I was half-right and half-wrong. Don't get me wrong, college has been a new chapter in my life.
I've experienced the "normal" college life events, such as dorm life and living away from home, but there were some norms I didn't experience — sorority life or getting hammered all the time.
But, often times, life in college seemed just like high school. College, for me, seemed like a continuation of high school, sort of like "Saved by the Bell: The College Years." I've especially felt this since my time at IU Southeast.
I think because this campus is still somewhat of a commuter school, a lot of local students come here, thus, bringing high school drama with them.
This isn't true at every campus, but I think every college student at some point in their college career feels a little like this. I know I definitely felt this way during my freshman year.
One thing is for sure, college life has been a rollercoaster ride for me.
After graduating high school, I attended Bellarmine University, my dream school — or so I thought.
At Bellarmine, I was a pre-physical therapy major, but I quickly realized I should've stuck with my passion, writing.
I went on to the University of Kentucky, majoring in journalism, but my time there was short as well.
Then, in March 2008, I found out I was pregnant and wanted to move back home to be closer to my family. So, in summer 2008, I began my first semester at IU Southeast.
After attending two universities already, I knew what to expect from college life. However, IU Southeast gave me something the others didn't.
Perhaps it was because I was older, but I have made more friends here than anywhere else. I have felt more important on this campus. At the University of Kentucky, I didn't feel like I belonged.
Moving from university to university had its ups and downs — for instance, moving all my crap — but I wouldn't change the experiences and lessons I've learned because of the places I went to.
I would like to share five things I've learned during my time at Bellarmine, University of Kentucky and IU Southeast.
What I've learned
1. Many college students can't cook: I
remember living in one of the older dorms at Bellarmine, and that building had really sensitive fire alarms. If a woman straight-ironed her hair under a smoke detector, the alarm would go off.
Also, along with IU Southeast, Bellarmine students burn food — a lot of food. Maybe some should just stick with take out and pizza.
2. Classes at 8 a.m. suck: While at Bellarmine and University of Kentucky I had two 8 a.m. morning classes, and hated every minute.
I attended the morning class at Bellarmine but hardly went to the one at University of Kentucky. I ended up dropping that economics class and learned my lesson. I haven't had an 8 a.m. class since.
3. Bike locks don't work: While at the University of Kentucky, I thought it would've been cool to ride my bike to class, since it was such a large campus — big mistake.
I had my bike locked to a rack, or so I thought. I went out one day to get it, and it had been stolen.
To this day, I still feel hurt my bike was stolen but remember driving around Lexington with my boyfriend, trying to find my bike.
4. Dorm life was an experience in itself: While at Bellarmine and University of Kentucky I lived in the dorms.
Bellarmine, I would have to say, was the best time of my dorm life. I loved being on my own, yet, being close to go home when I wanted to.
I was free and got to do want I wanted. It was totally a different experience than commuting, and I would recommend any college student to give it a try.
5. It was nice to get away but always nice to come home: When I lived in Lexington, Ky. I was more free and independent than before at Bellarmine, but I couldn't go home as much.
So, when I did come home to visit, it was a lot nicer. I was always glad to be back in
Lexington, but it was nice to go home because it was familiar.
So, there you have it. Five lessons which can be applied to any college student.
As my college career is coming to an end, and I walk up on that stage, I can't help but be happy.
I'm happy I'm graduating from IU Southeast and so thankful for all the great professors I've had, friends I've made and experiences I've had.
The most memorable moment from IU Southeast will be my time on The Horizon.
IU Southeast and The Horizon have prepared me to be successful in my future endeavors and in journalism.
—30—
By AMANDA FRENCH
Features Editor
aafrench@imail.iu.edu