IUS Fitness Center shapes up
IUS Horizon
October 23, 2011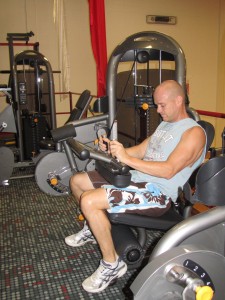 The Fitness Center at IU Southeast is no longer full of outdated and broken equipment, but, instead a brand new lineup of fitness equipment.
In August, the Athletic Department purchased brand new cardiovascular and free weight equipment. The Athletic Department went to the Student Life Committee and asked for new fitness equipment.
Their request was approved, and they were granted $75,000 from the Student Activity Fees.
Joe Glover, athletic director, said students have wanted new equipment, and he wanted to provide for the students' needs.
"The students here have power," Glover said. "They told us what they wanted, and we did our best to provide for them and help make the campus what they want it to be."
The new equipment consists of all Matrix fitness products, such as new treadmills with iPod hookups, elliptical machines, stair steppers, recumbent bikes, medicine ball rack, all new dumbbells and free weights.
Stephanie Shuman, English and secondary education senior, said she was really excited when she heard the Athletic Department was purchasing new equipment.
"The ellipticals are my favorite, and, last semester, they only had two," Shuman said. "The new addition of the medicine ball rack is awesome, too."
The new equipment has also changed attitudes about the Activities Building.
James Robinson, biology senior, said he has two other gym memberships, and, before, the new equipment was purchased, he refused to go to the Fitness Center.
"The new equipment is so much better," Robinson said. "I'm here all day, and, now, I enjoy going to the gym on campus."
The Athletic Department also set up a five-year replacement plan, so every sixth year they can replace all the equipment with new gear.
"The replacement plan is the coolest part," Glover said. "We will never have old equipment like we had ever again."
Glover said the previous equipment was very old, and some of the pieces could not be repaired because the replacement parts were not made anymore.
During the summer, Glover invited Floyd County School Corporation to look at the old equipment and take what they wanted.
What was not donated they sold as scrap and used the money to help purchase the new equipment.
The Fitness Center is free for all students, faculty and staff and is open until 10 p.m. Monday through Thursday, until 5 p.m. on Friday, closed Saturday and open until 5 p.m. on Sunday.
Anyone in the community who joins the Grenadier Club by paying $50, $100, $150 or $250 receives free membership to the Fitness Center and other athletic deals.
By CLARE BOWYER   
Staff
clbowyer@umail.iu.edu