Editor anticipates new beginnings
IUS Horizon
November 27, 2011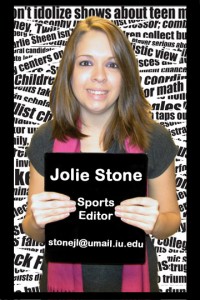 There comes a time in all students' lives when they must step into a career and out of college.
This time, for me, is now.
With only a few weeks left of the fall semester, I sit back and reflect on all of the things I have done throughout my time at IU Southeast.
In high school, teachers are supposed to prepare students for what is to come once they walk across that stage.
Well, I feel like every single one of my high school teachers did an excellent job of that.
Even with all of the preparation and advice my teachers gave me, I can still remember fall 2007 because I was the most nervous that I had ever been.
I definitely had my ups and downs throughout college. It started with quite a few downs, though.
During the first year,  I remember not caring about doing well in my classes.
I figured college was a time to party and have fun without studying.
I went as far as to drop below full-time in the first semester because I thought the course was boring, and I did not want to do the work to pass.
Yeah, I know that is probably one of the most stupid reasons to drop a class.
As time went by and I changed my major multiple times, I figured out these classes, as boring as some of them were, were the building blocks to what I needed to succeed in the future.
It is important to know historical information about ancestors, what is going on in today's political world and a foreign language.
All of those things make students into who they are today.
So, to all the freshman out there, take every single class seriously — no matter how pointless and boring it seems.
There is a reason the university requires students to take these classes, and, besides that, they are essentially paying to be here, so take full advantage of it.
Don't waste money.
One of the best feelings I can remember in my college career is making the Dean's List multiple times.
When I look at my certificates, it gives me a feeling of accomplishment, a feeling that, at one point, seemed out of reach.
That is one thing this university has taught me — nothing is out of reach.
I have made so many friends in classmates and professors.
These people have influenced me in so many different ways.
To my friends at The Horizon, you have all helped me realize my passion for journalism.
I have learned to ask questions about everything, to never just take one person's word for something and to look past what is right in front of you.
Those are skills that I will not only use in my field but in my everyday life.
Knowledge can only be obtained through research and asking the right questions.
To a couple of professors that made the university what it is today — Jim St. Clair and Ron Allman — thank you for pushing me to better my skills as a photographer, writer and editor.
When I first declared journalism as my major, I was not quite sure if I had made the right decision.
With both of your guidance, I figured out there was no other option.
With the last few weeks rapidly approaching, I try to prepare myself for what lies ahead. I feel overwhelmed with last minute papers, projects and exams.
At the same time, it is a bittersweet feeling knowing I will soon have my undergraduate degree.
As the old saying goes, when one door closes, another one opens.  There is no doubt in my mind I am ready for a new door to open.
—30—
By JOLIE STONE
Sports Editor
stonejl@umail.iu.edu