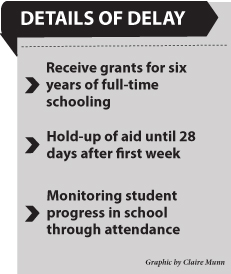 For this school year, there will be a delay in students receiving their financial aid, due to a law passed by Congress in December 2011.
This new law being implemented by Congress will affect how much financial aid students can receive, how long they can receive it and how soon interest will begin to rack up on their loans.
The new law also affected the Pell Grant.
Now, students only can receive the grant for six years of full-time schooling, whereas previously it was nine.
"[There are] 296 students [who] are close to running out of the Pell Grant, due to the new stipulations — absolutely no one was grandfathered in," Brittany Hubbard, director of Financial Aid, said.
While all these new rules and regulations may seem like a burden to students, they were made to help them out.
"What the government is trying to do is make sure that students are only receiving the amount of aid they actually need, so they don't further themselves in debt," Hubbard said.
Hubbard said there had been a trend in students enrolling full time, receiving all the aid they were able to and then dropping down to part time.
However, many students do not realize that 30 days after the disbursement, they would have to pay back the extra aid they had received in full, increasing their debt.
In order to stop this trend, the government decided to wait to disperse the loans until 28 days after the first week, making sure all the aid they were receiving was enabling them to obtain a degree.
There are various factors that are taken into consideration for those who obtain financial aid, which is why each person may receive a different amount.
The government considers the cost of travel, supplies, room and board, tuition and books.
They look at each student's specific case and decided how much they should receive so they do not have to take out more loans than necessary.
In order to make sure students are attempting to obtain a degree, the new law has also begun to monitor student progress in school.
This involves students attending classes throughout the term. If students do not attend or receive a withdrawal from their classes, they may have to start repaying any aid they have previously received.
Due to the delay in receiving the financial aid, a new program was introduced at IU Southeast which helped students to purchase their books from the IUS Bookstore.
From Aug. 13-29, students were able to charge up to $600 to their student account using their UCard. After Aug. 29, the amount spent at the IUS Bookstore will appear on the next billing statement.
This enables the student to use financial aid or their own money to pay for textbooks.
"We're a very data-driven office, and we do whatever we can to help students out," Hubbard said. "Now, nearly every student will have the ability to have access to their books, for the first week of school, which is very important."
Elizabeth Sutton, biology, said she loves the new program.
"Tuition is only half the cost of school," Sutton said. "It is pointless not being able to use your financial aid to pay for your books and school supplies in advance."
Leah Trail, psychology, said she did not get to use this program this semester but plans on using it in the future.
"It's a simple and easy way to pay for books, and I love the concept," Trail said.
Julie Faulds, manager of the IUS Bookstore, said she has seen an increase in the number of students who are able to rent books from the store. More students have also placed their orders for their books online a lot earlier than they have in previous years.
"While this process may not be easier on us, it's easier on the students, and that's what's most important," Faulds said.
Before the program was instituted, some students would not have been able to get their books for almost two weeks into classes.
"This new program makes books much more accessible to students," Faulds said.
Hubbard said the new implementation will be in effect until the end of the school year, at least.
"Though what will happen in the future for financial aid all depends on who wins in the 2012 election," Hubbard said.
By GAIL FAUSTYN 
Staff
gfaustyn@ius.edu