Personal reasons connect students to donations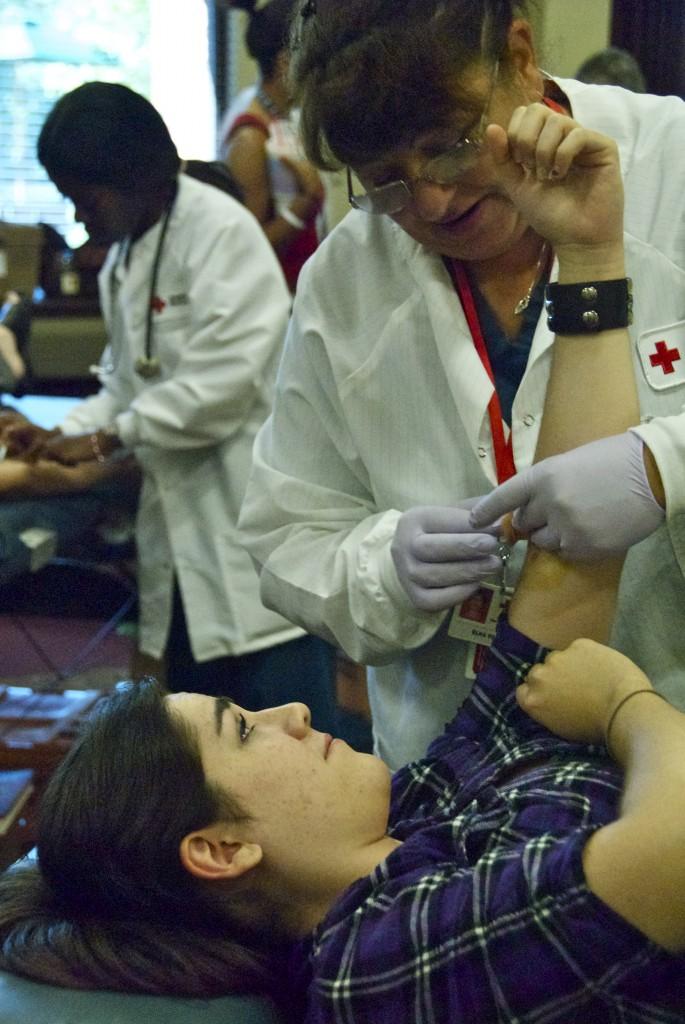 Her face crinkled. Her body cringed. She felt the pinch as the needle broke her skin, but Jade Veirs, biology freshman, said she knew it was a good thing.
For years, Veirs has been donating at blood drives, such as the one held at IU Southeast by the Red Cross.
"I usually have to psych myself out," Veirs said. "I'll start off the day feeling great, and, then, as I get closer and closer, I remember I don't like needles."
The Red Cross calls for students biannually for donations on campus. The donation drive was a day-long event in the Hoosier Room on Sept. 11, and Alpha Phi hosted the event as a philanthropy service for the university.
Veirs said donating blood has been a cause close to her heart, since her stepmother passed away last year.
"Before high school, my mom was diagnosed with colon cancer," Veirs said. "Our church decided they were going to have a blood drive in her name. I wasn't at the age of consent yet, so my sister donated. After we realized my mom couldn't donate, my sister and I promised her that we would donate every year."
Viers said her stepmother raised her since she was 3 years old and is one of the closest people to her.
"She's my best friend, and still is — we're good," Viers said. "She keeps me in line, and keeps me doing good. She has ways of reminding me that she still has her eye on me, so I have to be good. I don't get to slack off."
Veirs said she and her sister did miss one year of donating due to lack of iron and being underweight.
"We're getting in fighting shape to do this," Viers said. "We have to because she's looking out for us. We're trying to do good by her."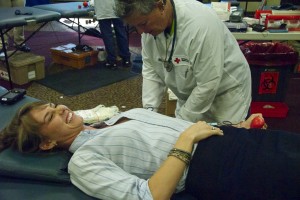 Another student had similar reasons for donating.
Victoria Travelstead, secondary education sophomore, said she has given blood several times before. She also gave a speech on the topic for a communications class because she said it was something she could relate to.
"My dad had been to the hospital," Travelstead said, "and, if it wasn't for a blood transfusion, he would have died."
She also said how a different person's donation saved his life.
"He got really sick last summer," Travelstead said. "He was in the hospital, and they didn't know what was wrong with him."
Travelstead said his blood was so thin, it would not clot.
"They needed to give him a shot," Travelstead said, "but if they gave him that, he would have bled to death. They gave him a blood transfusion, which ended up saving his life because he had to have that medication. They never figured out what was wrong with him. After they gave him the shot, he just got better while he was in the hospital, and he came home."
By SAM WEBER
Staff
samweber@ius.edu