Grenadiers chop down St. Mary-of-the-Woods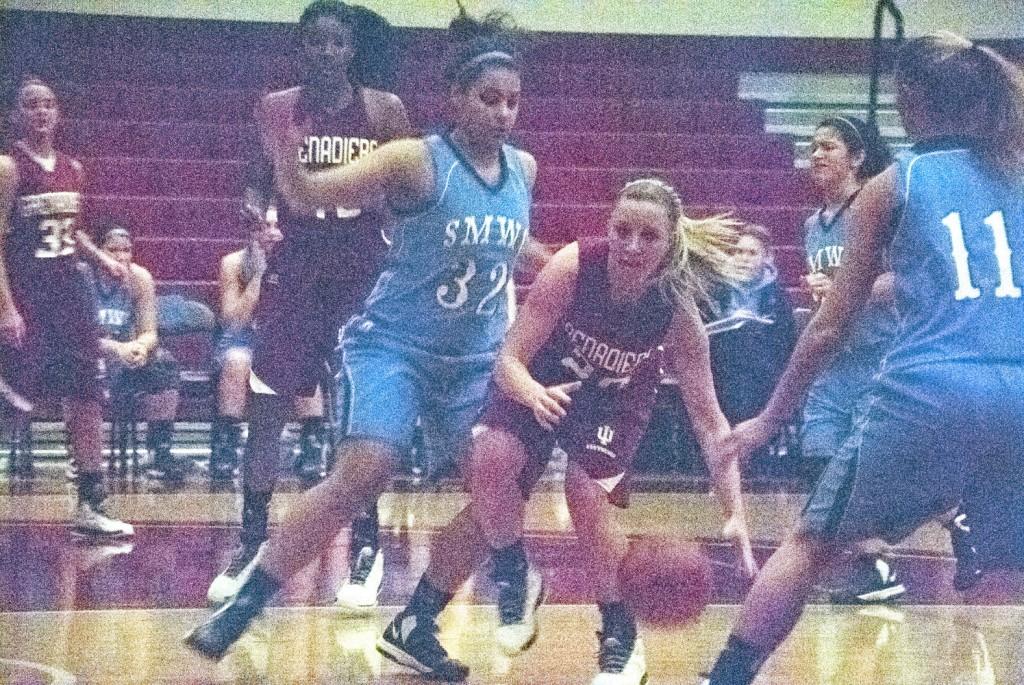 The IUS women's basketball team set multiple records in the first game of the women's Thanksgiving Tournament hosted by IU Southeast.
The Grenadiers dominated St. Mary-of-the-Woods with a final score of 148-101 to set personal and national records.
The Grenadiers came close to securing the National Association of Intercollegiate Athletics Conference Record Award for most points scored in a single game and in a single half.
They beat out Berea College's second place record of 141 points, which was set in 2005.
However, the Grenadiers were just 11 points shy of the first place record in a single game of 159 points held by Oklahoma Baptist and set in 1995.
The Grenadiers scored 79 points in the second half to be 10 points short of the record point total in a single half, also set by Oklahoma Baptist in the same 1995 game.
Brian Sullivan, IUS women's basketball assistant coach, said the high score was partly a reaction to the Pomeroy's defensive play but also a strategy the team practiced.
"It was by design," Sullivan said, "but they did force us to play a little faster than we normally would; although — I'll take this every night."
Robin Farris, IUS women's basketball head coach, said the strategy was intended to compensate for the loss of several key inside players who graduated last year.
Farris said the team is not as dominate in the lane because of the loss of the players.
"We're not as big as we used to be on the inside," Farris said, "so that is something we're trying to work around."
He said the team's strength this season is its smaller, faster ball-handlers.
Sullivan said the team adopted a strategy that used its speed as an advantage.
"We definitely had to attack against this team and not hold the ball," Sullivan said. "We need to play up-tempo, dribble-drive offense. We try to get layups and draw fouls."
Heather Wheat, sophomore guard, said Farris enforced the strategy throughout the game.
"He told us to keep attacking," Wheat said. "Even when there was only 15 seconds left in the game, [Farris] told us to keep attacking."
The tactics worked against the Pomeroys. The fast-paced, high-intensity style of game play forced turnovers and fouls, which the Grenadiers turned around as a record number of points.
Though the team scored a record of high points, St. Mary-of-the-Woods also broke the century mark which tied the national record for most total points scored by both teams in a single game.
The record was set at 249 total points by Olivet Nazarene against Robert Morris in 2007.
By SAM WEBER
Staff
samweber@ius.edu