The Man Behind MoneyBall
The sound of bats cracking echoes throughout the Phoenix Municipal Stadium as pitchers, catchers and a few other players, report for spring training for the Oakland Athletics. As players pull out gloves and bats stowed away from the four-month break between seasons, Billy Beane, Oakland A's general manager, sits before a full house in the IUS Ogle Center 2,000 miles away.
"First off, I want to apologize that I'm not Brad Pitt," Beane said when he took the stage.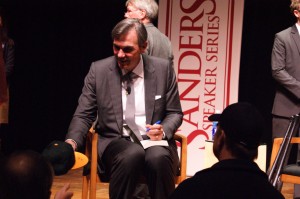 Beane is considered to be one of the most progressive executives in the game of baseball today using his "moneyball" technique of drafting. Beane's methodology inspired the book "Moneyball: The Art of Winning an Unfair Game" written by Michael Lewis, that was later turned into the motion picture "Moneyball" starring Brad Pitt.
Beane first saw the film at the Toronto Film Festival.
"It seemed like a normal Brad Pitt movie, and then you hear your name," Beane said. "It's a little surreal to say the least."
Beane said he has seen the movie, but it is not something he could watch regularly.
"I'd feel a little weird if I popped it my DVD player at home," Beane said.
Beane has been credited with molding the A's into a winning team and a postseason contender since 1999. Most recently the A's were the 2012 American League, West Division champions and currently maintain the fourth best record in baseball.
Beane said this season's roster looks to continue the winning tradition in Oakland.
"I like our club. We under promise, over perform," Beane said. "We're very deep. We drafted nicely."
Beane's visit to IU Southeast on Feb. 12 marks the fourth year of the Sanders Speakers Series sponsored by Judge Carlton and Sue Sanders.
For the event, Beane sat down with Marty Rosen, director of library services, for a 45-minute discussion. Rosen asked Beane questions regarding his moneyball methodology, the A's and even his take on baseball on the big screen.
To open the discussion, Rosen listed several baseball-themed movies and asked Beane his thoughts on them. Beane rated "Field of Dreams" as one of his favorite depictions of baseball on the silver screen.
"Baseball is romantic," Beane said. "And they really brought the romance."
After the discussion with Rosen, the audience was then invited to participate in a question and answer forum.
Rosen credited Beane with having a very hands-on management style with the A's. Beane— being one of the few general managers left in the major leagues who has played in the major leagues – said the clubhouse is a sacred place, but he has always felt comfortable there because he was a player.
However, Beane refuses to watch his team play, as was depicted in "Moneyball."
"It's a way for me to govern myself," Beane said. "I have to stop myself from being emotional. What if you could make a call during the game to take a player out? Well I can."
Beane said he has been involved with baseball from an early age, playing ball with his grandfather. Beane said baseball is "every man's generational sport." He said baseball lends itself to generational conversation among fans.
For many people, Rosen said, money is a way for to measure their success, but Beane said money has never been an issue — he has other means of measuring success.
"The only legacy for me is my children," Beane said. "I've never wanted my professional life to be my self-esteem."
The audience consisted of students, faculty and community members – but scattered among the spectators were the occasional baseball lover and some Oakland A's enthusiasts sporting their green and golds.
To end the discussion an audience member asked Beane about his thoughts on the "Steroid Era" and its effects on baseball.
"Our history is our most precious thing in baseball," Beane said.
The IUS baseball coaches, dressed in their crimsons, helped usher attendees into the Ogle Center and many players came to get inspiration from the baseball mogul.
Frank Pluskota, psychology sophomore and baseball player, said that he found inspiration in Beane's presentation.
"It makes me want to work harder," Pluskota said. "Something he said really stuck out to me. He said 'don't be afraid to fail in baseball.'"
The Louisville Slugger Museum surprised Beane with three bats as a gift for speaking to the community.
They presented him with his signature bat, as well as Scott Hatteberg's, who played for the A's during the 2002 season, signature bat. The third bat was an Oakland A's bat that Beane signed.
This March will mark the 10-year anniversary for Lewis' "Moneyball." Beane said he told Lewis before the book was published, that nobody was going to read "Moneyball."
"We're not even the most popular team in our town," Beane said he told Lewis.
By HANNA WOODS
Senior Editor
hrwoods@umail.iu.edu