STUDENT CONQUERS CHALLENGES
Justin Meredith wants to be like Superman.
He does not want x-ray vision or the ability to fly — he wants to fight for people that cannot fight for themselves.
"That's why I joined the Army," Meredith said.
Kris Applegate said that Meredith is known for his Superman T-shirts: he even has a patch that says "Superman" on his Army uniform.
Meredith said he is just trying to return the favor.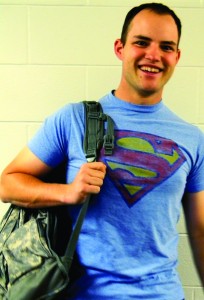 Meredith spent his early years in government housing with his family, where he said he endured numerous beatings. He also said that every day after school he was forced to stand in front of the mirror for an hour and repeat to himself that he did not deserve to exist.
When Meredith was 7, he spent several years in and out of foster care.
"As a little kid, I didn't have anyone to look up to, so I tuned into Superman," Meredith said.
He said he was drawn to the way Superman helped others without asking for anything in return.
Meredith said one of his caseworkers told him the most he had to look forward to in life would be flipping burgers. She also said he would grow up and become abusive to his own children.
"I was bound and determined to rise above that, to overcome it," Meredith said. "I refused to be like my mother. I refused to be a product of the system."
In the spring of 2013, Meredith will graduate with four Bachelor's degrees— a double major in political science, a degree in Spanish and a degree in general studies with a social sciences concentration. He has already earned two associate degrees in Spanish and general studies.
Meredith began with one major and realized that with a few more classes, he could add another major and another. Before he knew it, he was a quadruple major.
"I thought, 'Why stop there when I'm so close?'" Meredith said.
After graduation Meredith said he plans to work for the FBI, but he said if those plans do not work out his education will allow him to have several options to fall back on.
Meredith says a great deal of his ability to remain positive comes from his faith. Meredith attends Full Gospel Tabernacle in Sellersburg, Ind., where he volunteers at the soup kitchen and vacation Bible school.
"I was always drawn to the intangible qualities of Superman— the integrity," Meredith said. "I realized that Jesus was that guy. Jesus is the original Superman."
When Meredith was 18 years old, he and his brother were adopted. Meredith's brother began to turn to self-destructive habits, but Meredith did his best to remain positive and could not understand why his brother was acting out.
One day, Meredith was getting ready to show his girlfriend a video of him playing the drums, when he noticed something strange on the video camera. He helplessly watched one of his brother's friends being molested as the video played.
After an investigation, police discovered four more video tapes like the one Meredith found, a chest filled with pornographic films and thousands of dollars in money orders addressed to the Ukraine for pornography.
"I was overwhelmed. I felt like it was my fault," Meredith said.
After leaving their former step-father's home, Meredith spent a few nights living in his car. He got an apartment, but he could not afford heat that winter.
For a year, Meredith worked three jobs. He saved his money and budgeted carefully. Then he applied at IU Southeast, where he met his wife Kathleen Meredith.
"We met in the coffee shop," Meredith said. "It's kind of like a story book romance."
Kathleen said her husband inspires her each day.
"Without him pushing me forward, I wouldn't have my own Etsy shop selling my creations." Kathleen said. "I wouldn't have published two books. I wouldn't be a freelance photographer, and I wouldn't be working on my first comic book. He has been the one to nudge me out of my comfort zone. He's my Superman."
While Meredith remains positive, he said his past does affect him.
"It affects me in my drives and motivations," Meredith said. "I feel like I have to separate myself from my past as much as possible."
Applegate said in some ways, that drive and motivation is demonstrated in Meredith's stubborn streak.
"What he thinks is right, he's going to stand up for it no matter what," Applegate said.
Meredith said he wants to help other foster children overcome their circumstances. He has already presented speeches and plays telling his story, and he was invited to speak to a group of foster children in Washington D.C.
Meredith said his message to others trying to overcome difficult circumstances would be, "Don't give up. It's going to get crazy, but hold on."
Meredith also said having a role model can make all the difference. He encouraged struggling youth to find a positive symbol or role model to inspire them.
He said he is dedicated to helping others discover that they do not have to be a product of their circumstances, that they can play the hand life dealt to them and win.
"Find a friend. Maybe I can be that guy for someone. Maybe my story could help someone else," Meredith said.
By HANNAH ASH
Staff
hash@ius.edu