Diary of a college basketball refugee
I was born a Hoosier fan. I bleed crimson— literally.
As soon as I exited the womb, I'm pretty sure I was put into my little baby candy stripes and cooed a sweet "Hoo-Hoo-Hoosiers" in my mother's arms. Since then, the love has only grown stronger over the years.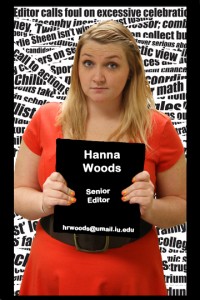 I've watched through the good times and, with clinched fists and teeth, through the not so great years.
Although I am a Hoosier forever in my heart, I recently relocated to the land of bourbon, where I live now. And let me tell you, being an Indiana fan in Louisville is no easy feat.
When I'm watching games in my crimsons cheering on my boys, there is always a surplus of people rooting for them to lose – no matter who they are playing.
You would not believe how many Illinois and Minnesota "fans" come out of the woodwork when the Hoosiers are up against them.
Luckily, I can trash talk with the best of them, so I hold my own.  But there is nothing like being surrounded by your fellow Hoosiers watching a game.
I work at a sports bar where most of my clientele are Cardinals and Cats fans. My favorite question I get is, "Kentucky or Louisville?" When I respond, "Neither, IU," it is usually met with some snarls and rude remarks.
Usually mumbling the name Christian Watford does the trick and eliminates my chance at a tip—but hey, I gotta stick up for my boys.
When the Hoosiers meet up with the Cardinals later this month—assuming they will, of course—it's going to be a tough night to be a Hoosier fan on the south side of the bridge.
So here we are, the biggest month of college basketball is in full swing. Brackets begin to be filled and teams prepare for the best tournament in all of sports. While Indiana University sits in the same place we began – at No. 1.
When I fill out my bracket, I fill it out with my head and not my heart. Last year, though it pained me and made me physically sick, I had Kentucky winning the tournament, because it was the smart decision to make.
This year, I will be able to put Indiana in that center box knowing that they have what it takes to make it there and win it all. My head and heart will be fully behind the decision.
The IU basketball program has grown incredibly over the past few years, much thanks to Head Coach Tom Crean. As a fan, nothing has been better to watch than the development of this team.
When Crean was hired in 2008 as head coach, he started from scratch rebuilding the basketball program after the recruiting violations of his processors. With Crean as head coach, the Hoosiers finished the year 13th in the Coaches Poll after his first season.
Crean turned around what was a losing team and molded these players over the years to put them into the position they are in now.
The team is deep. We have a strong bench and a powerful starting lineup. Almost any player who touches that court can be a leading scorer for the night.
We have our superstars—Big 10 Player of the Year and Defensive Player of the Year, Victor Oladipo, and seven-foot beast, Cody Zeller – but any of the starters, and even players coming off the bench, are capable of putting up double digits each game.
Christian Watford, Yogi Ferrell and my personal superstar shorty, Jordan Hulls, who currently ranked fifth in the NCAA in 3-point field goal percentage at 49 percent, all have topped the scorecards this season, leading the Hoosiers to their 27-5 season. Then we have Will Sheehey, sixth man of the year, who can come off the bench and score 11 points, like he did March 15 against the Illini.
It is absolutely incredible how deep the talent is on this team.
Not to mention, being a Hoosier fan, you have a lot of perks that many other fans in college basketball do not get. The biggest being most players in the Hoosier program play their whole college career.
You watch them from their freshman year until they graduate. You build relationships with these players. When they win, you feel it like you are on the court with them. When they lose, you need a couple of days to recover.
They become part of your family, something fans from that blue team across the bridge do not get to feel. When you are a one-and-done team like Kentucky, you don't get to watch your players grow. You don't build that same relationship.
You get one, maybe two years, with them and then they are off to the black hole of the NBA where they usually just fade away against the LeBron's and Kobe's of the big leagues.
Then there is Assembly Hall, that beautiful little 17,472-seat haven.
There is no other court in the NCAA, maybe in all of basketball, like Assembly Hall. It is the epitome of what a college basketball arena should be. The seats are filled with students, in the lower levels up to the high rises. The student section is powerful, which is part of the reason why IU has only lost two games at home this season.
As we look to the end of this season, I would love to see the Hoosiers win it all, and I think they have everything in place to get there. In college basketball, nothing matters once you reach the tournament.
Not rankings, not records, not even having the Player of the Year on your team.
The moment that will forever live as the best moment in college basketball for me was Dec. 10, 2011. The unranked Hoosiers pulled off a win with an incredible 3-point buzzer beater by Watford against the No. 1 Kentucky Wildcats.
It was one of the most beautiful moments of my life. I was at work in Indiana at a sports bar, that was pretty evenly divided by blue and crimson. When the ball left Watford's hands everyone was on their feet.
As the buzzer sounded cheers erupted, high-fives and chest pumps were exchanged and grown men were crying. It was beautiful. To this day, when I see the video replay I get cold chills.
Moments like these are the epitome of college basketball: upsets, buzzer beaters, fans rushing the court.
You have one game. One game that can send a No. 1 seed home early or advance you to the championship, and every game is just as important as the next.
It's been nearly three decades, and we are ready to show the world that Indiana basketball is back and better than ever.
If Indiana plays with the heart I know they have, we can win it, and what a beautiful day it will be for all of us Hoosiers.
By HANNA WOODS
Senior Editor
hrwoods@umail.iu.edu