Health Fair teaches importance of stress management
The air smelled of essential oil. Three downward-facing dogs breathed in and out at the sound of an instructor while a woman adorned in rings told attendees she could tell if they had illness by looking at their eyes. A puppy named Cooper was happy to oblige the many touches of affection he received from newly-made friends. This seemingly odd collaboration was all part of the Health Fair held on Wed. Nov. 6, in the Hoosier Room.
The fair was put on by the school of nursing as a community service learning project. Kylie Eckart, nursing senior, said the nursing students did an assessment of the campus and figured out that the major need on campus was stress reduction.
"College is a really stressful time and it's hard to take care of yourself when you're so stressed out," Eckart said.
About 30 businesses and organizations participated in the fair, lining the room with different booths or stations, all of which were contacted by the nursing school.
One of these businesses was Creekside Outpost – a health food store, grocery organic produce market, game meat depot, Native American Café, juice bar and wellness clinic. The booth was run by Lady Hawk and Two Feathers who spoke of one of their many offered services, iridology. An alternative medicine technique, iridology is an analysis of the iris of the eye.
"Marks or craters in the iris as well as pigment changes shows dysfunctions in the organs and systems of the body," Lady Hawk said. "So I could look at your eye and tell you if you have anything wrong in the kidneys or the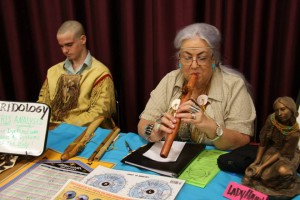 brain."
Lady Hawk said she had come to every single health fair event since the start. "In a one-room setting you have all kinds of different alternative techniques and therapies. This could open your eyes to something new."
A newcomer to the event David Eib, from Wags Pet Therapy of Kentucky, brought his dog Cooper along. The organization usually brings pets to people in nursing homes, elementary reading groups or prisons.
"Pets really provide a lot of therapy and stress relief that people just don't expect," Eib said. Eib believes finding what works best for you to relieve stress is an educational process. "The sooner you become involved and exposed to different things the more background you have, should it be necessary or helpful."
Other services offered at the fair included blood pressure, heart rate and BMI screenings, back massages, yoga and meditation. Eckart said she thinks students could gain some valuable knowledge at this fair.
"They could learn a lot of different ways to manage their stress especially around finals time and with all the health screenings they can become aware of problems they didn't even know they had."
There are many different aspects that contribute to a college student's stress including the rising cost of tuition coupled with the worry of being in debt, the state of the economy and not being able to find a job after school, and working a part time job while in school just to make ends meet – not to mention paying for those over-priced textbooks.
Although stressing is not fun by any means, it's actually not detrimental as long as it's not excessive. Eib believes finding what works best for you to relieve stress early on is an educational process in itself.
"The sooner you become involved and exposed to different things the more background you have, shouldn't be necessary or helpful."
Lady Hawk said since most traditional students are young and impressionable the Health Fair is a good start at raising awareness about the resources that are accessible to them. "It can make a difference."