Leaving a Legacy: Nothin else I can say
I resign.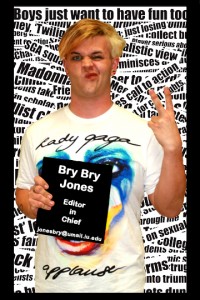 Due to a new understanding of who I am and who I have become since I started The Horizon almost three years ago, I am leaving.
The number of people I have met in this organization and the networks and friends I have made have changed my life.
I have produced more than 50 pages, written tons of stories, helped revamp the entire organization of the paper, started a new sunrise on The Horizon and left a legacy that won't soon be forgotten.
Since starting the newspaper when I was a n00by staff writer back in 2011, I have changed — tons. I moved up the ladder, staff to features editor to profiles editor to senior editor to editor-in-chief, and I find it hard to believe that my time is done.
But journalism isn't my only love anymore. I have fallen for sociology as well, and I need to spend the rest of my time at IU Southeast focusing on research and bringing my GPA up so I can get into the graduate school I want to attend.
I want to get research published and possibly presented somewhere before that time arrives so I have something to show for everything I have done, and will be doing, here.
So let's start with the standard thank you's now …
First of all, Ron Allman, associate professor of journalism and my previous adviser: I've taken the most classes with him, and he showed me just how much fun journalism is and showed me the ropes. He is also one of the first people who got me inspired to do journalism,and he showed me why our small campus is better than, say Bloomington or Western Kentucky University, which is why I am still here and not there.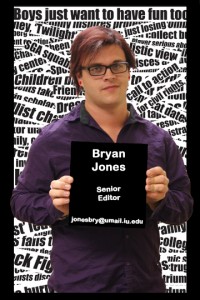 Next up is Jim St. Clair, emeritus professor of journalism.
He always forced me to ask better questions and be a better reporter. Plus, he never forgot my name even though I was only able to take one class with him before he retired.
Let's not forget Adam "Mad Dog" Maksl, assistant professor of journalism and my adviser for the past year and a half. He's a real pain in my ass sometimes, but he has taught me a lot about journalism and life in general. Sometimes it's a real love-hate relationship.
Last but definitely not least there is Veronica Medina, assistant professor of sociology and the professor who showed me that journalism is sociology without the rigor in her social problems class last fall. The amount of help  she has given me not only in sociology but as a person has helped shape me throughout the past few semesters. She even made an appearance at my dad's funeral along with Adam.
Adam and Professor Medina have in just a short period of time become my college foster parents. They both have advised me on what I should do outside of school and helped me with preparing for grad school so that hopefully one day I can be their colleague.
I would not be where I am right now without these four people, and I am grateful for everything they have done, but my college life wouldn't be complete without the support of my friends and family.
There have been days when I wanted to quit, and my sister would start texting and yelling at me because I was ready to give up. She stood behind me and pushed my ass back into the game to keep going.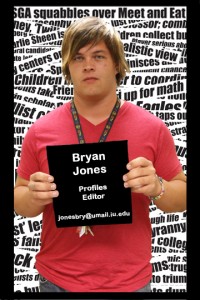 My friends have stuck behind me through this and will hopefully continue to stick with me through it the rest of the way, no matter how much longer it takes me to get my degrees. Specifically I want to point to one friend in particular,Chris Cole. He never just gave me advice. He will listen to me vent about something and then tell me what he thinks, and when I say something stupid he would mentally beat the thought out of my head — which is what I need sometimes. Thank you, I love you.
I don't have enough room to thank everyone for their contributions to my college career, but they know who they are.
Finally, my Horizon family, past and current editors along with the staff members that have filtered in and out, have affected my life a lot more than they probably realize. When you sit in an office for as long as we have sat in here some nights to design a page, spend hours with a staff writer telling them ways to improve a story and see the final product sitting on the stand, it gives you a sense of accomplishment that I've never felt before — I might just miss this the most.
I will miss all of these things, but the truth is I am checked-out, and I need time away to focus on everything else I have been putting on the back burner for this organization: my research, social life, friends and mostly getting the hell outta Dodge with a degree in hand.
Spring 2012

Sometimes a story has no end//
Sometimes I think that we could just be friends//
Cus I'm a wanderin' man, he said to me//
And what about our future plans//
Does this thing we have even make sense …//
So I just packed my baggage and said goodbye
to family and friends//
And took a road to nowhere on my own//
Like Dorothy on a Yellow Brick//
Hope my ruby shoes get us there quick//
Lady Gaga — Gypsy
I have been through so much with this paper and have seen it become something bigger than I ever thought it would be. I have cried, laughed, yelled and experienced almost every single human emotion during my time on this paper, but I wouldn't change a damn thing.
To The Horizon: Thank you for embracing me and creating a documentary of my coming into who I am now.


—30—