Eid al-Adha: Festival of Sacrifice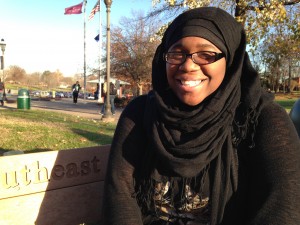 The streets of Casablanca, Morocco are busy and full of life; children in new clothes and shiny shoes dart in and out of crowds of people laden with gifts, en route to the homes of their friends and families. "Eid Mubarak," they say excitedly, as they pass one another. Carts carrying live goats, sheep and other animals wind through the masses, the air filled with the rich aroma of traditional foods and meats.
This is the scene psychology freshman Korrion Symonette described from her visit to Morocco several years ago. Symonette traveled over 4,000 miles with her mother to celebrate the Muslim holiday Eid al-Adha, or the Festival of Sacrifice.
"Every family has a celebration," she said. "The whole neighborhood comes together."
Eid al-Adha is the second of two religious holidays in Islam and one of the biggest for Muslims across the globe. Symonette, a convert to the religion, said though the holiday is often compared to Christmas in Christianity, the purpose is to honor the willingness of Abraham (Ibrahim) to sacrifice his first-born son Ishmael (Isma'el), and Ishmael's consent to be sacrificed.
Hannah Cohen, graduate of IU Bloomington religious studies program, learned about the meaning of the holiday from Muslim friends she made while living in Jerusalem.
According to Islamic tradition, she said, Abraham was commanded to sacrifice his only son as a test of obedience and submission to God's will. In the Quran, Abraham asks Ishmael if he agrees to be sacrificed, and he does. At the very moment that Abraham raised the knife, Allah told him to stop, and provided a sacrificial lamb in his son's place.
"It's a celebration of Abraham's obedience to God's will," said Cohen.
Today, Muslims remember this story by a slaughtering an animal, like a cow or a goat or sheep, as a symbol of Abraham's sacrifice, Symonette said. A portion of the meat is kept for the holiday feast and the rest is shared with friends, family and those in need.
Celebrating Eid al-Adha at home is different than in Morocco, she said. Since it is not nationally observed holiday in the US, it can be difficult for everyone to get off work, but her family and friends still find ways to have what she described as an 'Americanized Eid.'
"We usually have a cook-out with our friends," Symonette said, "but we don't actually sacrifice the animal ourselves. We just cook it."
Louisville has Islamic community centers and mosques that host events for the holiday. Symonette said Muslims across the region gather at the mosque to worship together. This year, she and a friend went to listen to the story of Abraham and messages about the purpose of the holiday from the mosque's imam, or prayer leader.
Symonette and her mother are both converts to Islam, but the rest of her family is Baptist. Before converting, she  celebrated Christmas with her extended family. The way she celebrates Eid now is similar to how she celebrated Christmas with her extended family growing up.
"We buy gifts for each other and eat lots of food, sweets and cookies," she said. "I don't celebrate Christmas anymore, but I respect my family that does, and they respect my beliefs and traditions as well."
International relations junior Morgan Szabo lived on campus last year. Her roommate, a Palestinian refugee raised in Jordan, spent Eid al-Adha with her family before coming to IU Southeast.
"We would find ways to celebrate her religious holidays together," Szabo said, "usually by going out to eat with our friends, since her family was so far away."
One of their favorite places to go together was Petra, a Mediterranean restaurant on Bardstown Road. The owner is also from Jordan and Szabo said having a personal connection to home was important for her roommate, especially on holidays.
"In Jordan, her friends and family celebrated the holiday together. I imagine it was difficult to be miles from home on a holiday so central to her religion, so we celebrated with her, even if it was just by going out to dinner."
Celebrating Eid al-Adha at IU Southeast may be different than spending it in Morocco or Jordan, but that has not stopped students from remembering its importance.
After all, the purpose of the holiday, Symonette said, is more important than where you celebrate it.