Semester resolutions
Final exams are almost here, and  all that's left for the semester is waiting on final grades to be posted. However, some students are already planning their spring semester goals.
"My goals for next semester are to give it my all during student teaching," Emorie Elswick, elementary education senior said. "I want to get creative in the classroom."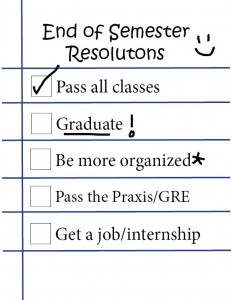 Elswick said she also plans on passing the Praxis Exam, getting some job interviews and graduating.
"I chose these goals because I will be student teaching all of next semester," Elswick said. "I plan to meet these goals by studying for exams,"Elswick said.
Lisha Totten, undecided senior, said that she plans to decide on a major and get on track to graduate.
"I plan to give myself plenty of time to do classwork," Totten said. " I want to stay organized."
Totten said that she wants to complete choosing a major so she can find a career she can enjoy.  She said she wants to take better care of herself and her daughter.
Similar to Totten, Allison Smith, general studies junior, said she needs to get more organized and not wait until the last minute.
"Next semester I'm looking into what I am going to do with this general studies degree," Smith said. "I want to start making connections that can help me into the career field."
Smith said she set these goals to become a better student so she will able to graduate in 2015. Smith plans on taking steps toward her goal by researching  job opportunities and getting involved in groups that deal with her degree.
Some students had already set goals for this semester and say they have completed them.
Totten said her goal for the current fall semester was to finish as many classes as possible. She said that she has met her goal by passing all of her classes and says she  is getting closer to choosing a major.
Like Totten, Elswick also had goals for this semester pertaining grades and performance in school.
"My goals for the end of the semester were to plan my unit and successfully perform in the classroom,"Elswick said.
Smith said setting goals helps her get to where she is going and said that setting goals a good idea for any student who wants to stay on track to graduate.