Henna tattoos offered during craft week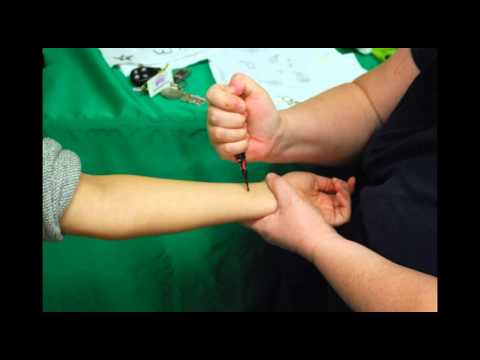 A pentagram, butterflies, flowers, a sparrow, and the word freedom were just some things students got "tatted" on themselves this past week in support of international craft week.
Students participated in a week-long international craft week on campus. During the week, students attended the booth in the Commons to participate in different crafts. Students were also able to get free henna tattoos done by volunteers in support of India and Middle Eastern cultures that utilize henna in celebrations.
"Women in India get henna when they get married," Lucinda Woodward, director of International Programs said. "It's a very complex process of painting hands, arms and full bodies."
Woodward said that this is the second year the International Programs at IU Southeast hosted a craft week event in honor of international education. She said other events this week included an international photo contest in the library, origami and jewelry beading.
Brigette Adams, secretary in the School of Social Sciences, said that this is her second year doing henna tattoos for the event.
"We had three people doing tattoos," Adams said. "We were all busy the whole time, for about an hour or so."
Adams said she couldn't even guess how many different requests she had during the week. She said that several students requested personal tattoos.
Hayley Love, nursing freshman, said that she got the word "freedom" with the letter "m" flying away like a bird.
"I chose it because it represents freedom," Love said. "I believe everyone should be free, and just be who they are." Love attended the event with one of her friends who also decided to get a henna tattoo for the first time.
"It's like a tattoo but it isn't permanent," biology freshman Mary Lasfell said. "I've always wanted to. So, this is the first time that I've got to."
Lasfell said she got a sparrow on her neck because she wasn't sure what to get. She said she was familiar with henna because her aunt does henna.
Woodward said that the henna event is the most popular during craft week. She said that if students missed out on henna and other activities that were offered this week there will be another day in March. She said the next event will be the international festival, which will be a larger event with food, activities and live entertainment.