Serving tables to serving America
Seven months after graduating from college, Robert Alexander Saborsky was serving others, just not the way he had imagined. The international relations major had envisioned working for the State Department or as an analyst for a large company. Instead, he was waiting tables at Max and Erma's in Louisville.
Frustration set in, and Saborsky began to question his career goals.
"I had no idea what to do," the 2008 Seton Hall graduate said. "I had cast my net out but wasn't getting much."
He had never truly considered joining, but something about the armed forces had always appealed to Saborsky. His Grandfather had served in the military, and he had two older cousins enlisted in the Navy. He reached out to his cousins and discovered that the Navy could be the perfect elixir for the condition he had suffered from his entire life.
"I had professional ADD," Sabrosky said, "I was interested in a lot of stuff but not passionate about anything."
He decided to enroll in Navy officer training and give a career in the armed forces a try.
Four years later, he is a Lt. j.g. in the U.S. Navy with no plans of leaving.
There are students across the nation similar to Saborsky, who are finishing college only to discover that there are no jobs waiting for them after graduation.
Recent college graduate unemployment rates have gone from 9.7 percent in 2007, just before the recession hit, to almost 14 percent in 2011. That rate peaked in 2009 at 18.2 percent, almost double what it was in 2007, according to the United States Department of Labor.
Many graduates are turning to the armed forces to pay off debt, receive a steady income and get out of mom and dad's house.
This has led to an increase in college-grad enlistment, particularly in the Army and Navy. Almost 60 percent more sailors with degrees joined the Navy in 2012 than in 2007, according to RAND Corp., which studies military recruitment.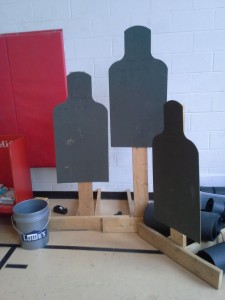 In 2008 the number of active duty military personnel with bachelor's degrees was around 5 percent, while soldiers possessing advanced degrees numbered fewer than 1 percent. By 2011 almost 12 percent held bachelor's degrees and more than 7 percent held advanced degrees.
Some students have noticed the unstable job market and are not waiting until after graduation to search for a career.
Major Matthew Bernoski was in college when he realized the military may be a viable career option.
"My roommate was in ROTC, and I would see him come home every weekend dragging," Bernoski said. "Meanwhile, I would be sitting on the couch."
After numerous weekends on the sofa, he said his roommate finally convinced him to come along on a few training exercises, and Bernoski joined soon after.
"The whole time I was thinking this is just to pay for school," he said.
Two tours in Iraq later, Bernoski handles recruitment for the Metroversity Army ROTC program. IU Southeast is part of Metroversity along with the University of Louisville and several other universities in Kentuckiana.
Bernoski says that almost every student who inquires about ROTC wants to know how it can help pay for school and if it can help secure a job after graduation.
"Our increase in ROTC enrollment in the last five years is definitely visible," Bernoski said. "Knowing that this opportunity is here has brought people in."
Bernoski says IU Southeast has about five students currently enrolled in the ROTC program.
Zach Pruet, business management junior, travels to the University of Louisville five days a week for classes and training. Pruet says he knew nothing about the IUS ROTC program until a friend told him about it.
"I played sports throughout high school," Pruet said. "The camaraderie and team atmosphere really appealed to me."
The ROTC offers two-, three- and four-year scholarships to students who qualify. After graduation they can enlist full time as officers in the U.S. military, or go into the reserves and serve part time. Both options provide money for school and a secure job afterward.
Pruet's scholarship pays his entire tuition, his books, as well as a monthly stipend.
"If it wasn't for this scholarship I would definitely have a lot of student loans," Pruet said.
After graduation, Pruet says he is committed to the Army Reserve for eight years, during which time he hopes to be accepted to Army pilot school.
The increase in college graduates enlisted in the armed forces can be seen in AFQT scores.
The Armed Forces Qualification Test Score can determine which military branch a recruit joins along with what job he or she is eligible for.
A recruit that scores at or above the 50th percentile is considered a "high quality" recruit.
In 2007, 45 percent of the armed forces recruits were considered "high quality."
By 2011 that number was approaching 63 percent. Those results have been seen locally as well with Indiana "high quality" recruits increasing 23 percentage points and Kentucky's increasing 18.
LTJG Saborsky said he thinks his experiences at Seton Hall have helped him in his Naval career.
"Habits from college have paid odd tenfold," Saborsky said.
He says his international relations degree gave him a better overview of the state of the world, especially during the two years he was stationed in Bahrain.
Armed forces training can also help veterans get a job in the civilian world. Randy Smith is a friend of Saborsky's and was with him the day he signed the papers to join the Navy.
"I always pictured him doing work with the CIA," Smith said. "Having the Navy on his resume will help him with whatever he does in the future."
According to the U.S. Department of Labor, 34 percent of veterans with jobs worked for federal, state or local governments.
Currently stationed in Hawaii, Saborsky works on mission and exercise planning for the Navy. It may not have been his original career choice, but he said he is happy with the path his life has taken so far.
"The amazing experiences, the people, the places I have been; it's not something a lot of people my age get to do," he said.
A continent away from waiting tables at Max and Erma's, Bernoski now has a more important customer; "service to country is that little extra that makes my job special."