My first year crash-course in journalism
When I arrived at IU Southeast last December as a transfer student from a two-year college, I wasn't sure what I was going to do but I knew two things—I wanted to finish out at IUS and I planned to write.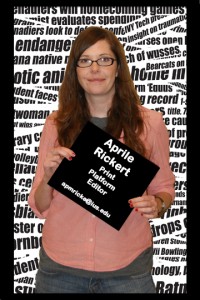 Through a short series of events, I landed in the journalism program, and since I was still in the process of transferring, I thought of my first class, J200: Reporting, Writing and Editing as sort of a test. If it turned out that I was really terrible at this or decided it was in some other way unsuitable to me, I figured I still had time to switch.
Luckily, the professor of that class, a new guy himself, was very enthusiastic about all things journalism, and in a short time, I started to get into this new challenge I'd put myself into.
Coming into this as a writer with little journalism experience outside of junior high yearbook staff, I quickly learned that
1. A lot of what I thought I knew about writing wasn't going to work here and 2. There's a whole lot more to it than writing.
For instance, there was the asking strangers questions problem. I could make do in social situations, but this was a different ballgame.
For one of my first assignments I went to a viewing of a film on poverty at the University of Louisville, hosted by the writer and director, with a Q & A session afterward. My job was to report on this, a task that included asking some attendees what they thought of the presentation. I chickened out and ended up walking to my car feeling defeated, all the while thinking I should run over and ask the girl across the street who was walking the same direction if I could interview her. I didn't, and what I turned in ended up being kind of an essay on the movie.
I knew I had to get over this awkwardness with the interviewing—otherwise there could be no story. I realized that to be able to write something, I had to be able to ask the questions that would give me things to write about.
So I just had to jump in. I learned AP style, the difference between hard news and feature stories, the reasons certain words are used in fatal disasters. I bought a pack of reporter's notebooks to feel more legit (once—I eventually started writing on anything I could, including my hand.) That first semester was tough an interesting, and it got me ready for my next step—The Horizon.
I was given an assignment the first day which was due a week later. This would be repeated every week for the semester. Part of me wanted to bail immediately but I just said to myself, "you can do this."
So I did. That semester I got much better at interviewing. I talked to people in coffee shops and gyms, furniture stores, McCullough Plaza and the Commons. I called people too far away for in-person interviews from my car, scribbling furiously in a notebook.
I interviewed a guy who took an 80 percent salary cut to follow his dream. I talked with a person who, after spending time driving tanks in Iraq, decided not to have a car when he returned and instead built a Velomobile.
I reported on the local goings on of a university-wide strike. I got a red hoodie and tried to learn the rules of basketball really fast.
I stayed up until 4am writing articles, sometimes turning in final drafts late in the afternoon on newspaper design days.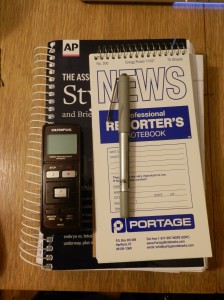 At the end of this crazy semester, I threw my hat in for a chance to be an editor in a completely new setup of The Horizon. Somehow, I got the position, even though I was so nervous during my interview it probably looked like I was going to have a stroke.
The advisers and the other editors and I worked hard over the summer to get the new face of The Horizon up and running by the first day of classes, and it's been a wild ride since.
The things I've learned as an editor are too many to count—something new every day—but there are a few that stand out: Jimmy John's is faster than Chinese food, the words to "Wrecking Ball" (against my will), deadlines are not suggestions and a newsroom at hour #11 smells worse than a skating rink that happens to serve a lot of coffee. On a newspaper design day, "almost done" means five more hours and prematurely predicting an early night out is sure to mean a late one.
I got to have dinner with Mary Beth Tinker, go to the Society for News Design Conference and experience the satisfaction of seeing how our work looks all together when it is published.
After all this, I've applied for an editor position again for spring, and while I don't know how that will play out, I do know that I will be part of The Horizon in some way.
Thank you to the advisers who inspired and helped shape this path for me, the staff who worked so hard to put out great content for the print, online and video platforms all semester and the editors who tolerated my neuroses, helped answer my nonstop questions and in whom I found new great friends and a second family.
After spending so much time trying to figure out what I wanted to be when I grew up, I think I've found my niche.
I belong here and I can't wait to see how far journalism and I can go together. I can say with certainty you haven't heard the last from me.