Don't count Detroit out
Hockey Town, Rock City, The "D," Motor City. Needless to say, Detroit has really made a name for itself. Regardless of all these different titles, it seems that it has only become notorious for one: Murder City.
Bankruptcy, corrupt politicians and Eminem and his vision of a drug-ridden, crooked 8 Mile are only some of the first morbid thoughts called to mind when one simply utters "Detroit."
For me, and my family — It's home.
A shiver rushes down other's spines when I explain that some of my family still live in that area. Most look at me in a stupor, responding with, "Why don't they just come down here and live with you?"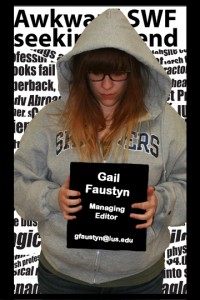 What most fail to understand is that Detroit is not just the burned down buildings, the race riots or the abandoned homes.
It's the "welcome home" I receive from my family when I walk in to one of their houses; it's the feeling I get when I look at the house I grew up in; it's the fact that my Grandmother can take me anywhere in that city and have a story to tell me.
As they say, home is where the heart is. Only, I can't help the fact that my heart lies saturated with pride within the decrepit crumbles of what used to be "Pure Michigan."
I am the product of a working class family who was born and bred in Detroit. My grandmother's family's history of living in the city dates back to the 1700's, back in the good ole' days when it was still called Fort Detroit.
My grandmother Julianne Ferrara was born in 1933 to Mathias Roehl and Marie Elizabeth Howard. She and her family lived in the very heart of downtown Detroit, 8 Mile and Woodward, and she said not once did she ever feel intimidated or scared.
When talking to my grandmother about the city, I noticed an overarching theme throughout: that "the city was beautiful."
"I used to go downtown by myself when I was around 10 or 11," Ferrara said. "All the kids in the neighborhood would get together and play in the street or at someone's house. We were never afraid to go anywhere."
In the '30s and '40s Detroit was a thriving metropolis almost akin to New York City, filled with skyscrapers, public transportation and most importantly, people, and a lot of them.
Following WWII, with the auto industry booming, Detroit became one of the largest cities in the United States. People flocked to the city to earn a job. Ferrara said they were fairly easy to come by, too.
"I started working when I was only 14," Ferrara said. "From there on out, I've had every job you could imagine."
Tad Scallen, a close family friend, currently works in downtown Detroit and said he loves working in that area.
"There is a lot of history in that town," Scallen said. "There is also a lot of interesting diversity in the area."
Scallen, like my grandmother, was raised in Detroit and lived on 8 Mile during the race riots. While a lot of people chose to leave the city during that time, Scallen said that his father adamantly refused.
"Because of the riots, a movement called 'The White Flight' was taking place," Scallen said. "My father didn't want to have any part of that."
"White flight," a term that originated around the twentieth century, describes the mass movement of white, or people of European decent, moving from the urban areas of cities and into the suburbs.
My grandmother and grandfather moved themselves during this time, because their family began to grow.
"The city really started to turn during that time," Ferrara said. "For a young couple starting a new family, it just seemed like the smart thing to do."
When Scallen had his first child, my best friend Morgan, in 1991, he and his wife Maureen also decided to leave.
"We were determined to stay there," Scallen said. "But we needed to do what was best for Morgan at that time, and that was choosing a good school for her."
While he said he is still filled with pride for the beloved city, he acknowledged the fact that the city is not what it once was.
"Spanning my whole lifetime, Detroit has kind of been on a slippery slope to where it is now," Scallen said.
On July 18, 2013, Detroit declared bankruptcy, and America laughed.
Detroit has become this sort of whipping boy, this scapegoat for other cities in America, a place for them to look at and say, "Hey, we may have it rough, but at least we're not Detroit."
"Detroit is a city that is finding it's bottom, but working it's way back to the top," Scallen said. "The people who are laughing at it now should almost see it as a foreboding incident of something that could happen to their own city."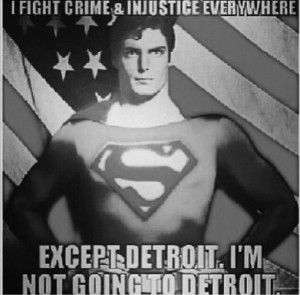 A lot of people have their own thoughts on what turned Detroit into the proverbial toilet, from Kwame to the decline of the auto industry, but I believe we have become focused on what is wrong and not spending enough time on what is going right.
Vacant, unused land is being mulled over and turned into farming areas, giving thousands of jobs to those in need. This is minimizing the unemployment number that has been a hot topic for years.
Detroit resides near all of the Great Lakes. It can export nearly anywhere, and many countries have seen this immense opportunity and purchased land that is being sold at very low rates.
Locally, the newly elected mayor Michael Duggan hasn't even taken office yet and has almost entirely turned around the Detroit medical center. While at first it was financially hemorrhaging, he completely turned it around.
Scallen said that through all of this, the people of Detroit still hold their head high.
"The people have a deep sense of community here," Scallen said. "The communities rally around each other during tougher times and support each other."
While it may not be glamorous, this city is my home and, like a phoenix, seems to continuously rise from the ashes.
I am proud to be the granddaughter of blue-collar, hardworking window washers and dogcatchers, and a big part of who I am derives from where I came from, Detroit.
Soon, Detroit will shed that ugly image of being known as Murder City and become known as the city that will never die.