The IU Southeast men's basketball team is 3-0 in the Kentucky Intercollegiate Athletic Conference and is the winner of four straight games heading into their matchup at rival IU East on Jan. 11.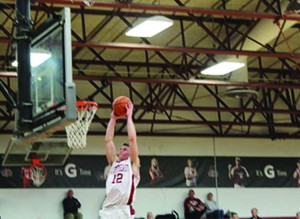 Six of the Grenadiers' nine games in the month of January are on the road, but they are playing like there is only one place they want to be in March: Point Lookout, Mo., home of the 2014 NAIA Division II National Championship Tournament.
"We got to the final four the season before and now we are third in the country," Stephen Utz, IUS sports information director, said. "I think you got to look at us as a team that is focused on that [championship]."
The Grenadiers rose to No. 3 in the latest NAIA Division II Men's Basketball Coaches' Top 25 Poll, tied for its highest ranking ever. The team is averaging almost 100 points per game while beating its opponents by an average of 17.5 points. There are five players averaging more than 10 points per game, led by seniors Kevin (15.9 pg, guard) and Cameron Mitchell (17.7pg, guard).
IU Southeast coach Wiley Brown guided his high scoring group to a 9-3 record, highlighted by a victory over then No. 2 ranked Indiana Wesleyan, to begin the season.
The tough non-conference schedule has led to losses against defending NAIA Division I champion Georgetown and undefeated NCAA Division II powerhouse Bellarmine University. Utz, however, thinks that the missteps can be used as learning experiences.
"I think they have handled the pressure because they have been in this situation before," Utz said. "They played such a tough schedule so that they will be ready for March."
First, the team must navigate its KIAC regular season schedule.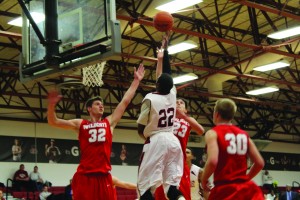 The Grenadiers' next home game is Jan. 18 against Alice Lloyd College. Homecoming is Feb. 15 against rival IU East followed by senior night against Brescia University on Feb. 19.
"That's a big game," Utz said. "To be able to send Kevin and Cam off, and the rest of seniors off, with a win and a good performance is important."
When the regular season concludes, IU Southeast will try and repeat as conference champions in the KIAC tournament Feb. 25 – March 1 at Alice Lloyd College. Finally, the Grenadiers will head to College of the Ozarks in Point Lookout, Mo., for a chance at the national championship.
"It's a balanced team. They are probably one of the deeper teams coach Brown has had," Utz said. "They are really well positioned to make a run."