Thrift-savvy students know that sometimes it does not take much more than a few singles in your pocket to look like a million bucks.
With the do-it-yourself movement on the rise, thrift stores are becoming the golden ticket for financially conscious students looking to "ball on a budget."
Some thrift stores offer discounts for frequent purchasers. Some Goodwills in Southern Indiana offer a stamp card that is punched every time $10 or more is spent. After ten stamps, the shopper will get $10 off a purchase.
Unique Thrift Store, located in Louisville, has a "VIP" program that anyone can join that grants the shopper special discounts on "VIP" days.
Many thrift shops also recognize the pinched pockets of the college student and offer student discounts – both Clarksville's Salvation Army and all nine Southern Indiana locations offer a student discount on Thursdays.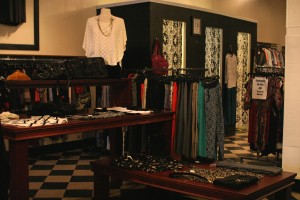 In addition to taking advantage of discounted merchandise, some students are using thrift stores as a creative tool to fashion their own versions of styles they have seen in stores or magazines.
"Last summer, I started to really get into high-waisted shorts," Alexandra Griffin, undeclared freshman, said. "I found an awesome pair in one of my favorite stores that were half-bleached and studded out but they wanted some ludicrous amount for them. I found some mom jeans in Goodwill that fit me that I cut off and bleached myself – they ended up looking much more unique than the pair I'd seen in the store and cost me a heck of a lot less."
Others have even begun to alter furniture by adding their own styles to it.
Kathy Schmitt, owner of the Crescent Hill Trading Company in Louisville, said she has revamped old furniture, sometimes by combining individual parts to make entirely new pieces.
"We do that all the time by adding paint, new handles, a top from this, a bottom from that," Schmitt said. "Chalk paint and milk paint are popular but usually some good old-fashioned spray paint works well. I buy old architectural salvage from folks before they scrap it and it can make cool yard art."
Some websites such as Pinterest and YouTube can offer inspirations and walkthroughs for modifying found pieces.
"I wasn't sure how to properly bleach my shorts at first but there were lots of tutorials online for what I wanted to do," Griffin said. "I save lots of the things I like on my Pinterest accounts to refer back to later for inspiration."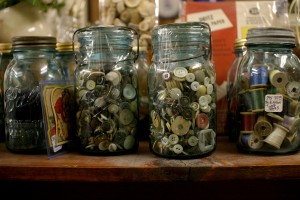 Some students are also finding thrift stores useful when throwing together an outfit for one-time events such as Halloween, costume parties or special occasions where a little elegance is required on a budget.
"I once went to a 1920s speakeasy-themed party for a friend's birthday," Dakota Purvis, psychology sophomore said. "I went to a thrift store similar to Goodwill and found a large, floppy white hat with flowers for about $5. Later I stumbled upon a white fur shawl for another $5. I used them to fancy up some pieces I already owned; it ended up being the perfect combination for the party – and for less than ten bucks."
Thrifty doesn't necessarily mean only saving a few bucks – it can also mean putting a few back into the bank. If students have something out of the ordinary not getting the attention it deserves in their homes or closets, they have the option of consigning those items to certain local consignment and thrift shops.
Stores like Urban Attic, located in the Louisville Highlands, will sell items in-store for a percentage of the sale price once they are purchased. If a seller would rather have cash on the spot, they store also offers an option to buy items outright.
There are even thrifting apps on the market, allowing one to "cyber-thrift."
Poshmark allows students to look into the for-sale sections of closets of men and women all over the world while displaying their own.
With all the items that factor in to the cost of an education and the price of clothes continuously rising, students have found frugal salvation in thrifting.
"As a college student living on my own, being thrifty is one of the wisest ways to stay trendy on a tight budget," Purvis said.