Chancellor candidate Minner hopes IUS will be his last post
On Wednesday, Feb. 5 chancellor candidate Sam Minner visited IU Southeast to share his vision for the campus and answer questions from the IUS community. He is the third chancellor candidate to do so since the final four candidates were announced.
Minner is currently university provost and vice president for academic affairs at Radford University.
During his visit at IU Southeast, Minner attended several sessions to meet with the faculty, staff and students. During the open community forum, Minner said he could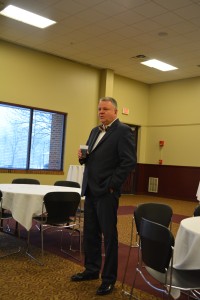 bring a great deal of valuable experience to campus.
Michael Harris, associate professor of business administration, asked Minner how long he plans to stay at IU Southeast. Harris said he was concerned with having a chancellor remain in the position long enough to make a lasting impact on the campus.
"My hope, my expectation, is that this would be my last academic posting," Minner said.
On the topic of online classes, Minner said the availability will depend on the student needs. The mode of instruction is not as important as the quality of material that is delivered, he said.
Before making any decisions about online courses, Minner said he would first figure out which online courses are in demand and then ensure that high-quality teaching and technical resources are available.
"Let's have a discussion, and let's put together a plan," he said.
Minner also said that as chancellor, he will work to maintain a relationship with the community. He will promote the role of the institution locally, regionally and beyond, he said.
"Part of the position is being the face of the institution," Minner said.
He said that maintaining a relationship with alumni is vital and that universities have a tendency to only contact alumni when they want money.
"Alumni want to be engaged," he said.
Minner also said that during his visit on campus, he has been able to see a need for strong guidance.
"You all could fly with the right leadership," he said.
The fourth and final chancellor candidate, Ray Wallace, will visit campus on Monday, Feb. 10.
IU Southeast chancellor candidate Sam Minner's resume.