Wallace says IUS has untapped potential
While IU Southeast has great potential, but has reached a plateau, Ray Wallace, the fourth and final chancellor candidate, said in the open community forum on Monday, Feb. 10.
Wallace is currently provost and senior vice chancellor at the University of Arkansas-Fort Smith, an institution Wallace said is similar to IU Southeast in many ways.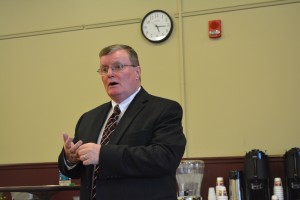 "It's too good not to grow," Wallace said on the topic of IU Southeast's potential for improvement.
Wallace said some of this potential lies in appealing to more non-traditional students which includes offering more online and hybrid courses as well as additional night and weekend courses.
He said he sees great untapped potential for IU Southeast's graduate programs.
"We are bleeding in terms of graduate enrollment," Wallace also said.
"Our business classes are stunningly good," he said. "But we should have more students."
Wallace also said he is more focuses on building and reaching a collective vision for the campus rather than working toward a personal vision. If he is named chancellor, his first steps will involve assessing strengths and weaknesses of the campus and listening closely to what others have to say.
"I am going to hit the ground running by sitting down and listening," he said.
Wallace also said he will focus on availability and transparency. He said he plans to attend a variety of campus and community events.
Wallace also stressed the importance of internships and said they allow students to better compete in the job market.
Wallace said he understands the importance and the potential of a regional campus like IU Southeast. He said the university could potentially benefit from offering a bachelor of applied science degree in addition to other new degree programs.
He also said he wants to get as many people from the community on campus so they can see what goes on at IU Southeast.
"There will be a lot of massive show-and-tell going on for a while," he said. Wallace said sharing the IUS story is an important part of gaining momentum for the university.
After attending sessions with all four chancellor candidates, Steve Bowman, English faculty member and representative of the Part-time Faculty Association, said Wallace's use of "we" when talking about the university was impressive.
"Perhaps it was a simple interviewing technique, but I was happy to hear a candidate try on our brand," Bowman said.
As the representative of the Part-time Faculty Association, Bowman said he was especially interested in knowing how each candidate would address the current part-time/adjunct faculty issues. He said the issues are part of a wider, national issue, and he did not expect specific answers from the candidates.
"I was encouraged, however, to hear at least two candidates suggest they would strive to see part timers' wages and/or course loads increased, access to health care granted and the stigma of second-class status improved," Bowman said.
Bowman said he is hopeful that circumstances for part-time faculty will improve once a new chancellor is hired.
Since the chancellor visits have come to a close, it is time for the next step of the chancellor search. Stephon Moore, Student Government Association (SGA) president said that the search committee will meet again to discuss the candidates.
"We will be looking at feedback from the rest of the campus as well as feedback from the candidate references," Moore said.
Next, the committee will submit recommendations to John Applegate, the Executive Vice President for University Academic Affairs. Then, Applegate will use the recommendations to make a final selection.
"From here, all students need to know is that the process will be directly impacted by the feedback they provide," Moore said. "It's so important."
Check back with The Horizon for more updates on the chancellor search.