Homecoming high jinks: IU Southeast community joins in Spirit Week celebrations
Players and spectators were brimming with school pride in the Activities Building on Thursday, Feb. 13, during the Homecoming faculty versus students basketball game.
The faculty beat the students 38-33 in the second annual game.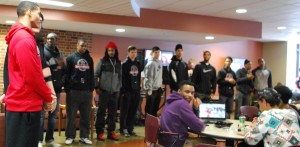 "It was awesome," Deven Estes, criminal justice sophomore, said. "I think the ref was part of the other team. Other than that, it was a great game and I can't wait for the next."
Students were down by six with a score of 11 to 18 at halftime. During halftime, the faculty cheerleaders — including members of admissions, campus life, advising and registrar offices — did a performance to Gwen Stefani's "Hollaback Girl."
"I get adrenaline when I see staff with students," Channell Barbour, associate director of Campus Life, said. "It helps build up morale and see a different side of the faculty."
Barbour was the coach for the faculty team. She said that a student approached her last year about starting a faculty versus student basketball game.
Jason Meriwether, vice chancellor for enrollment management and student affairs said he was glad to be part of the game that had built so much hype.
"I started working here July first and it's all I've heard about," Meriwether said. "It's always good to engage students outside of class and good to relax."
At the end of the second half, the faculty had a five-point lead with 38-33. Last year the students won.
"We went out and played hard," Anthony Richmond, business administration graduate, said. "We didn't get all the fouls we should have but we'll get them next year."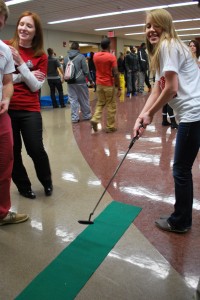 Meriwether said win or lose, it was a fun experience for faculty and students.
"It lets students see we care about them and can relax and be ourselves," Meriwether said. "I think that's what makes IUS unique."