Parker Henes, journalism junior, is a 6-9 forward on the IU Southeast men's basketball team. He will be blogging from the road as the  No. 3 Grenadiers play in the NAIA Men's Basketball National Championship tournament  in  Point Lookout, Mo.  IUS  will face Tabor College in the first round on today at 6:45pm
Post II
Fun before work
By Parker Henes  No.34
For some of us on the team, this trip to the national tournament is a vacation. A vacation with a some business that needs to be taken care of. It is always good to have a little fun before its time to buckle down and get to work, and you know you are having fun when your head coach, Wiley Brown, is smiling and laughing.
We got to the motel at about 10:30 Monday night. Everyone was pooped from the eight hour ride from New Albany. We were split up into separate rooms but we all pretty much ended up in the same one. The motel was nice for it's size but it was still a challenge to fit all fourteen players in one room. If thats not talent, I don't know what is.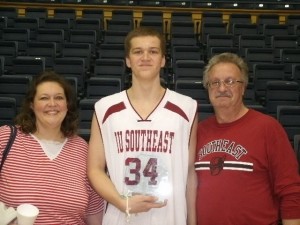 The three days before the game were so much fun. Day one, we found ourselves at a go-kart track. The track had four levels that moved in a spiral. We split the team up so we could have two the races. Race one was won by big Vern, or for everyone else senior forward Vernon Payne. Race two was won by yours truly. If you thought i was good on the basketball court, you should see me on the go-kart track.
The following day the team and I attended the NAIA banquet. The dinner was held in a large hall, where we were treated to show similar to the Dixie Stampede in Gatlinburg, Tenn. We, and every other team, sat above a big open field that was covered in sand. All of a sudden, horses, cows and even buffalo came running out. It was a dinner and a show, and trust me, it was a great show. One thing that we didn't like is that they served you a whole chicken and you couldn't use silverware.
"I don't know if that is an old American tradition or they just didn't have silverware, but that might have been the nastiest thing I have ever tried to do," Carlos Jones, freshman guard, said.
This is Carlos's first trip to Branson. Its cool because every time we do something fun or exciting, he always has this big smile on his face. That pretty much goes for all the first timers on the team. Only five players from last years team returned.
Just when we thought we couldn't have anymore fun, we found ourselves at the laser tag attraction. This is where the real warriors are made. The teams were simple. The blue team consisted of the coaches and the freshman. The red team was all the upper class players. Let's just say that we, the red team, won both times.
Also, from now on i would like to be called Captain Olympia.
Communication was the key to this game, just like it is on the court. The thing that we had that the blue team didn't was a game plan.
"I liked playing laser tag with my team because communicating with my team during the laser tag game is just like it is on the court," Greg Magee, senior forward, said. "So really, this game of laser tag is preparing us for the game tomorrow."
Today is our first test. We will be taking on Tabor University at 5:45 central time. The game will be streaming live on the NAIA website.