The Flea Off Market
The first weekend of the month is a chance for IUS students to buy local and keep it weird at the Flea Off Market. Located at the corner of Baxter and Market (1007 E. Jefferson St.), the outdoor bazaar draws an eclectic crowd along with more than 100 local vendors, selling everything from farm-fresh goods to original artwork, books, and vintage clothing and records.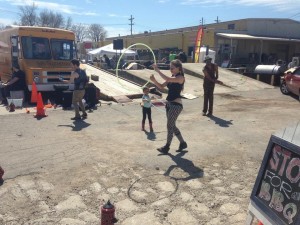 The Flea Off Market transforms the Fresh Start Grower's Supply parking lot into a lively marketplace the first weekend of every month, starting Friday from 4-10 p.m. It coincides with the Market Street Trolley Hop so that visitors can take the trolley between the two events. It is open Saturday and Sunday from 10 a.m. to 5 p.m.
Many of the vendors at the market are local, but some come from as far as eight hours away. Some, like Gayle Hanratty of Forest Floor Terrariums, have been setting up shop at the Flea Off Market since the beginning.
"I've been coming almost every month for three or four years now — since it started," she said.
Hanratty makes and sells glass terrariums of all sizes filled with a variety of carefully placed plants and natural objects. Each of her terrariums look like small pieces of the forest thriving under the class cloche. Each terrarium sold comes with Hanratty's personal guarantee to service and care for the plants, should anything happen to them.
Other vendors, like Seed Vanfrank and Bob Cheever, not only sell their products but also actually create them at Flea Off Market for everyone to see. Vanfrank and Cheever are the masterminds behind Cupid's Quest, a homemade metal forge and glass kiln, constructed completely from found, recycled and reclaimed materials.
They bring cast iron and old church glass from the Cathedral of the Assumption on Fifth Street with them to Flea Off Market so people stopping by their booth can see Cupid's Quest in action. They use the kiln to repurpose the old church glass into artwork — artwork that Vanfrank likes to say "used to protect baby Jesus."
"Since all of this glass used to protect the stained glass at Assumption, I say all our artwork used to protect baby Jesus," he said.
Vanfrank hopes to open an oddities shop in Louisville, similar to Obscura Antiques & Oddities in New York City, to house all of the strange and unique things that he collects.
Brooke Duvall, marketing junior, hopes to rent a space at next month's Flea Off Market. Booth rentals start at $35 for the day, and Duvall says she thinks it would be well worth the price.
"It's a good way to make some extra money, and it's fun because you can even trade with other booths," she said. "My friend Katie and I want to rent a booth to sell clothes we never wear anymore, small furniture, jewelry and maybe some of the paintings I've done."
Duvall is a freelance makeup artist, so she said she has also considered doing makeovers from her booth.
In addition to all the vendors, the Flea Off Market has food, drinks and lots of entertainment. Local food trucks serve food all day — or until they run out — and a bar serves locally-brewed beers and Flea Off Market cocktails like Flea Tea and Ginger Juleps. A build-your-own Bloody Mary bar is stocked with olives, jalapeños, hot peppers, celery, seasonings and a selection of hot sauces.